Feature
[Feature] GEA! Fashion, food and lifestyle in Sagae
[Feature] GEA! Fashion, food and lifestyle in Sagae
I went to the popular spot GEA in Sagae City, Yamagata Prefecture!
It is a facility located in two 100 year old stone warehouses that were relocated from a local sake brewery.
It consists of three areas: GEA 1, where you can find the latest fashion from around the world, GEA 2, where you can find tools purchased by professional buyers from Japan and overseas, and GEA 3, where you can enjoy Yamagata's food culture.
We have thoroughly covered each of them, so please take a look.
1. GEA
Sagae City is located in the center of Yamagata Prefecture.
It is an area rich in nature surrounded by majestic mountains such as Mt. Gassan and the Asahi Mountain Range.
It is famous for its cherries as agricultural products harvested from its fertile land are of high quality, making it possible to enjoy fruit picking activities throughout the year.
In the center of Sagae city, there is a popular spot called GEA that we will introduce this time.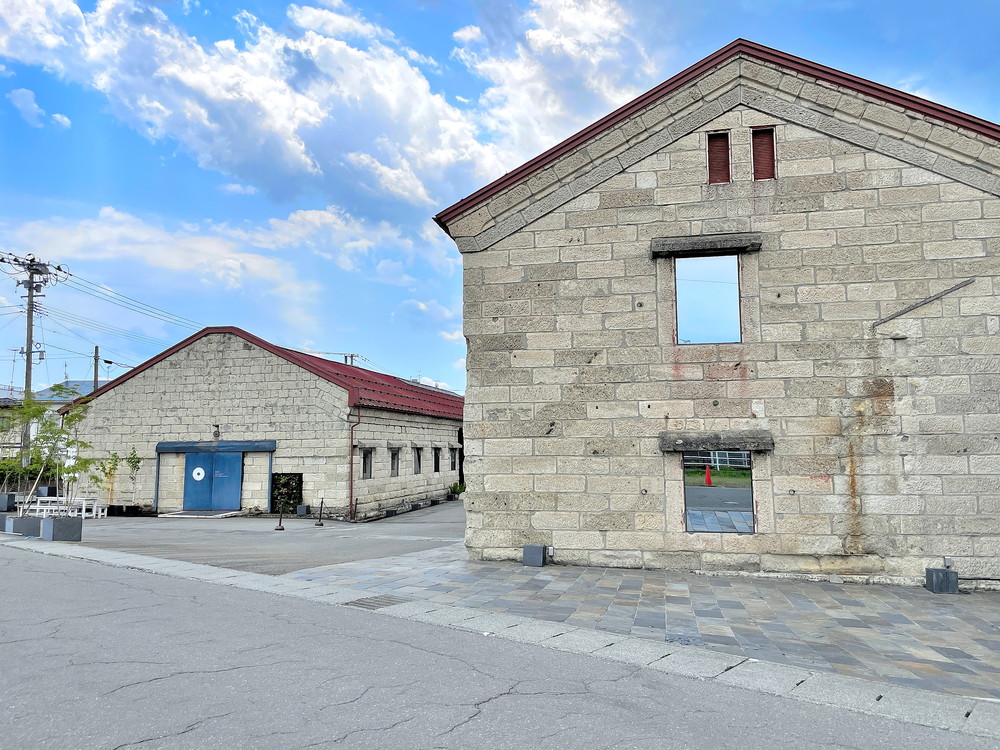 GEA is a facility consisting of two stone storehouses.
They are divided into three sections (GEA1 to GEA3) for clothing, food, and housing.
GEA 1 located in the stone warehouse (pictured above) is a shop where the latest fashion items selected creator's point of view can be found. GEA 2, where various products related to lifestyle are lined up, is located in the stone warehouse on the left while in the back of the same building you can find GEA 3 which holds a restaurant and a grocery store.
These stone warehouses are valuable buildings that have been certified as registered tangible cultural property.
The facility is run by Sato Seni, a company founded in 1932 thaat is attracting attention in the fashion industry as a spun knit manufacturer.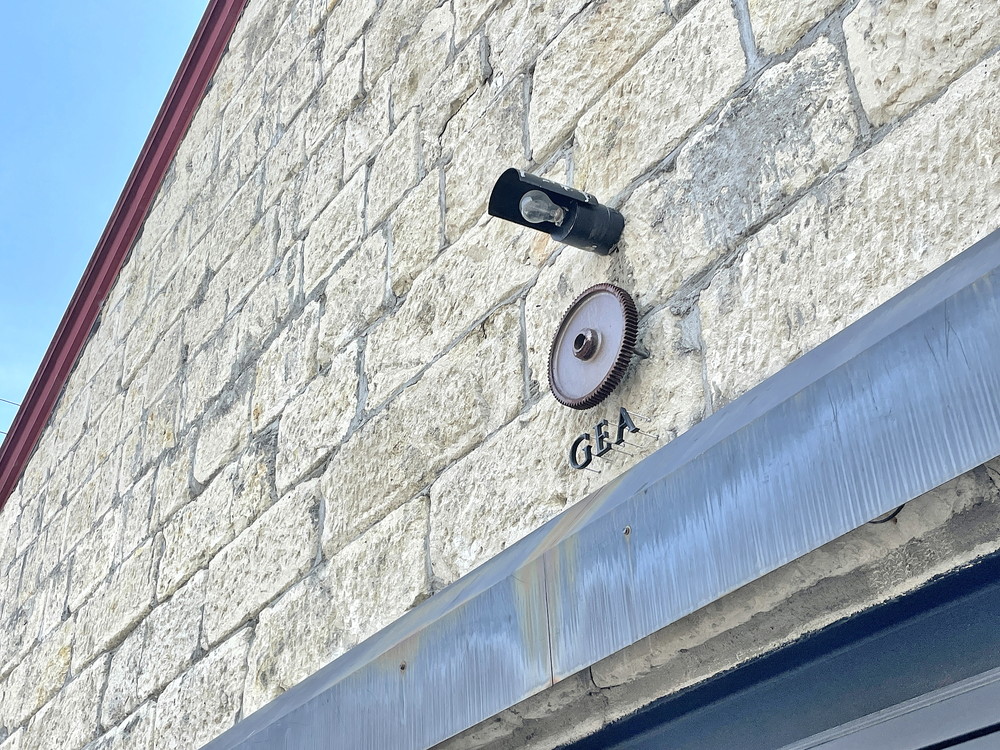 Originally used as a factory and warehouse, the stone building were renovated and re-opened in 2015 with the aim of creating a new place to connect with the world.
Now, let's introduce the charm of GEA!
2. GEA 1
First, go to GEA 1 on the right side!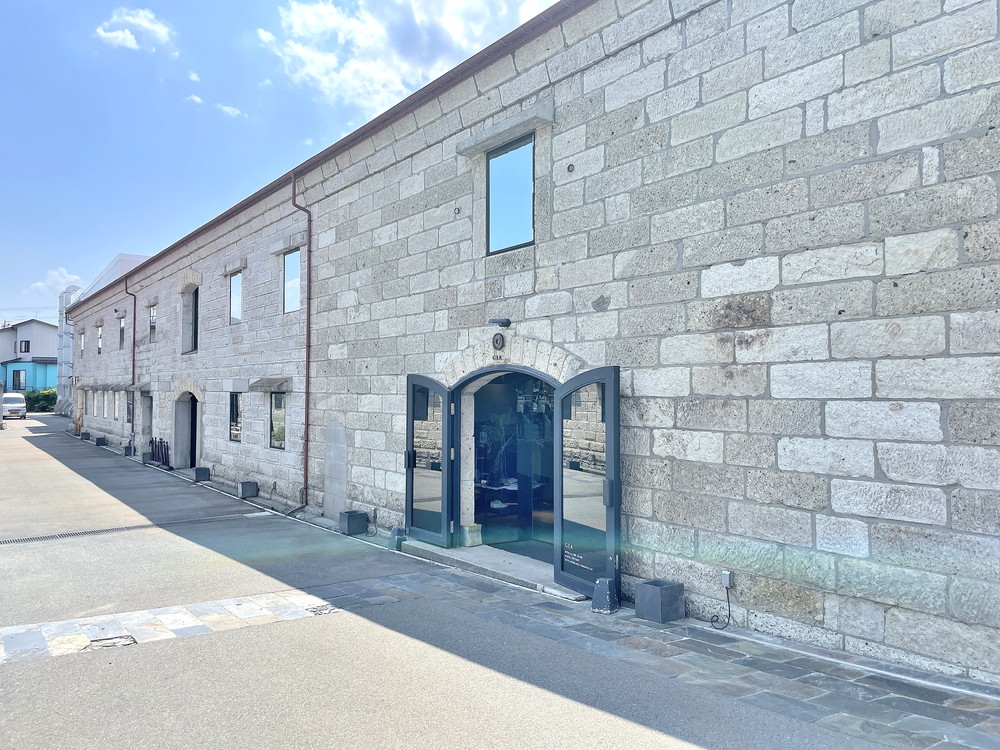 This is a place where you can find fashion from all over the world, selected from the perspective of a fashion creator.
There is already an extraordinary atmosphere from the appearance.
◆ 1st floor
Here is a view of the first floor!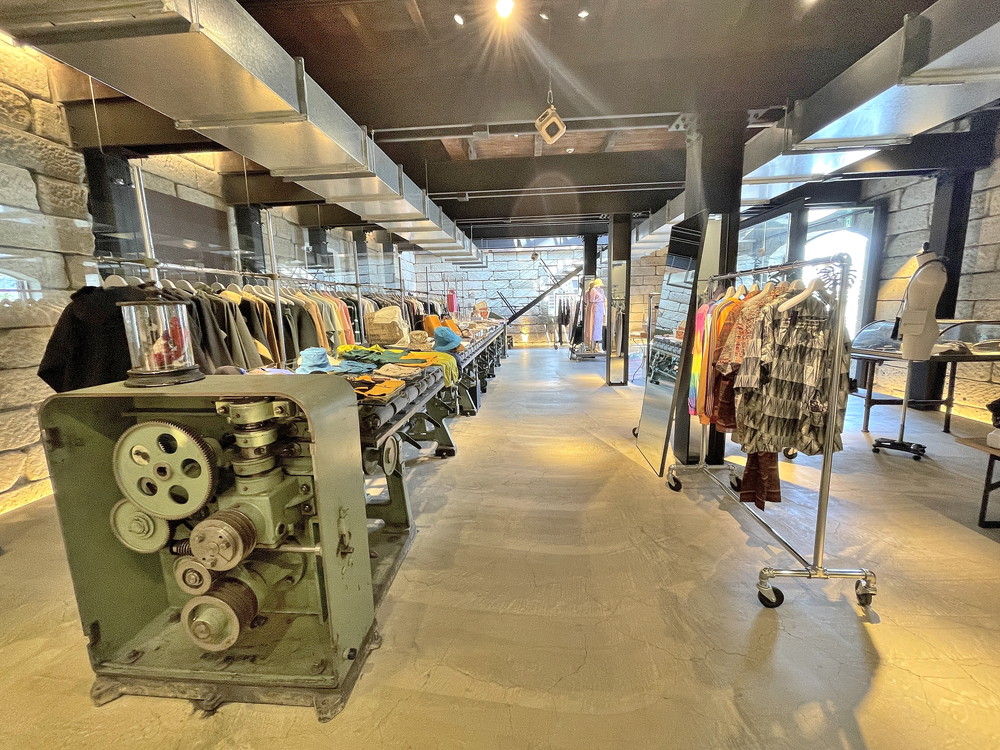 The atmosphere of the stone warehouse full of history and cutting-edge fashion is of a different world!
I feel like I'm in an art museum!
Even though it was just one door apart, my brain seems to be buggy for a moment lol
While suppressing the excitement, I immediately took a walk around the shop!
Inside were various products lined up while the spinning machine that was used in the factory in the past was the one that caught my eye.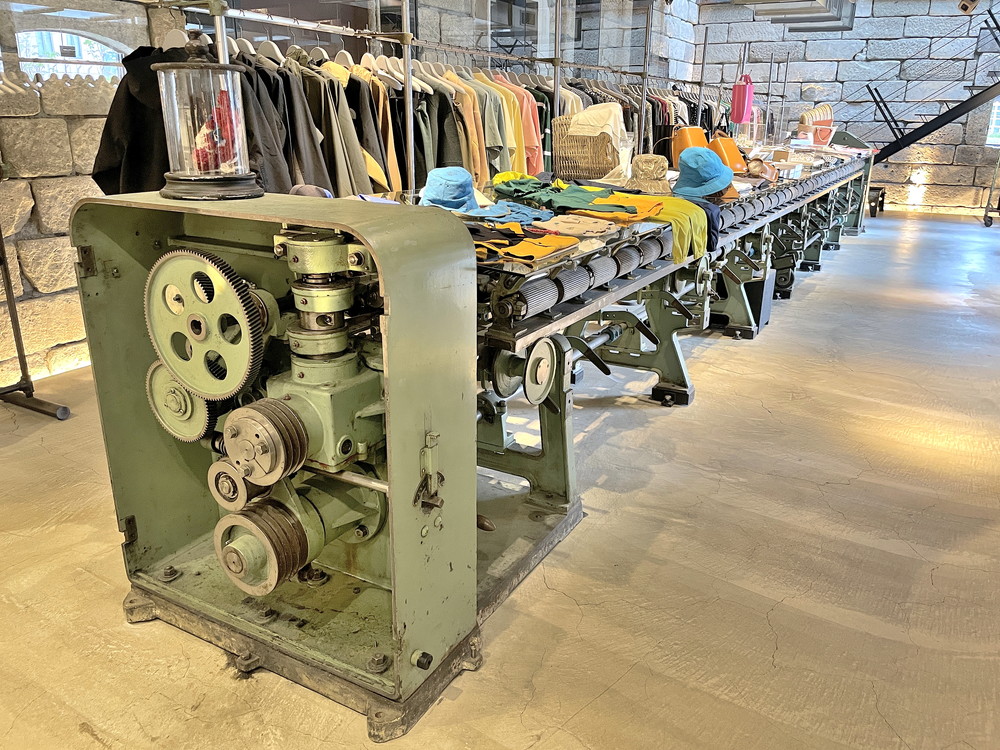 Even after finishing its role, it still entertains people who see it in this way.
Using a spinning machine as a display is a space that can only be created by the creators.
There is a wide variety of brands, including clothing, bags, and accessories.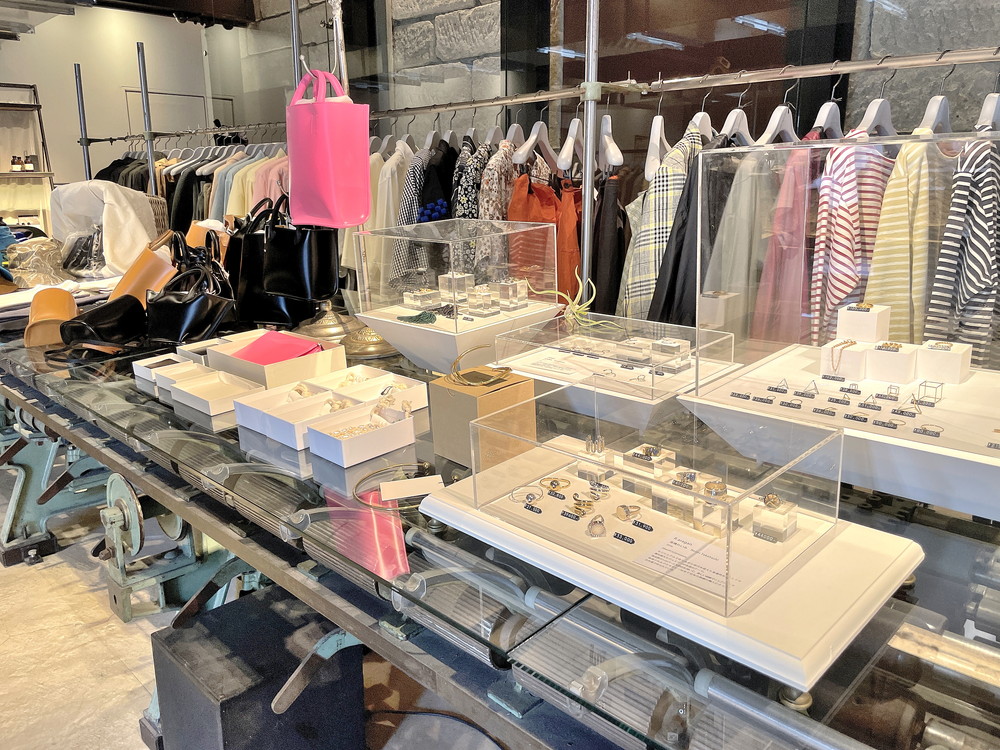 A wide range of items were displayed, from brightly colored items to items perfect for everyday use.
"Oh, this brand! I can't believe I can buy it in Yamagata!"
"Such a wonderful brand…!"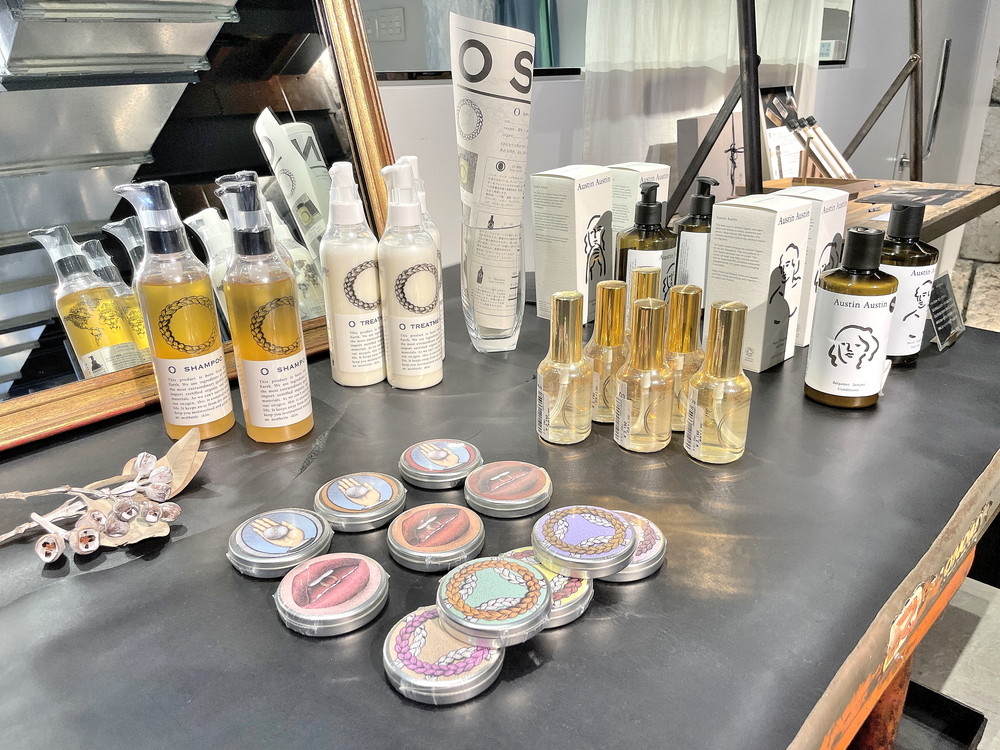 No, just fun lol
I usually can't go shopping alone, so my tension rises to a wonderful encounter.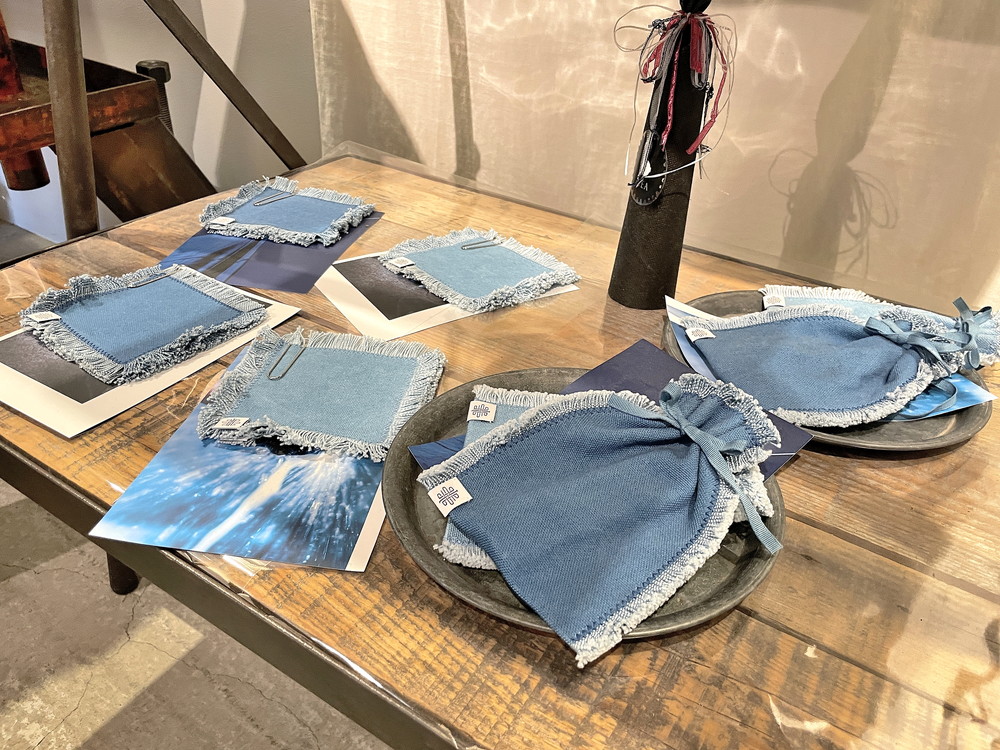 Time flies by just on the 1st floor…
Everyone please take care!
Next is the introduction of the second floor area.
◆ 2nd floor
When you go up to the second floor, you will be greeted by a stylish glass-enclosed space.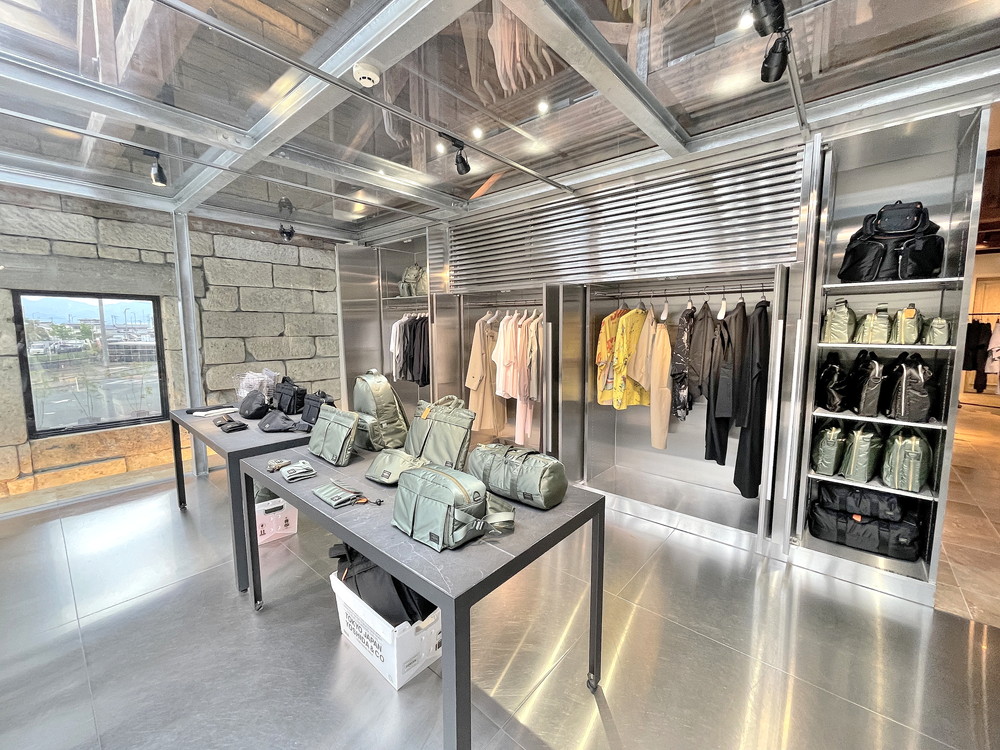 Here you can find the latest collections and items that match the theme.
If you go further, you will find an area where GEA original brands are lined up.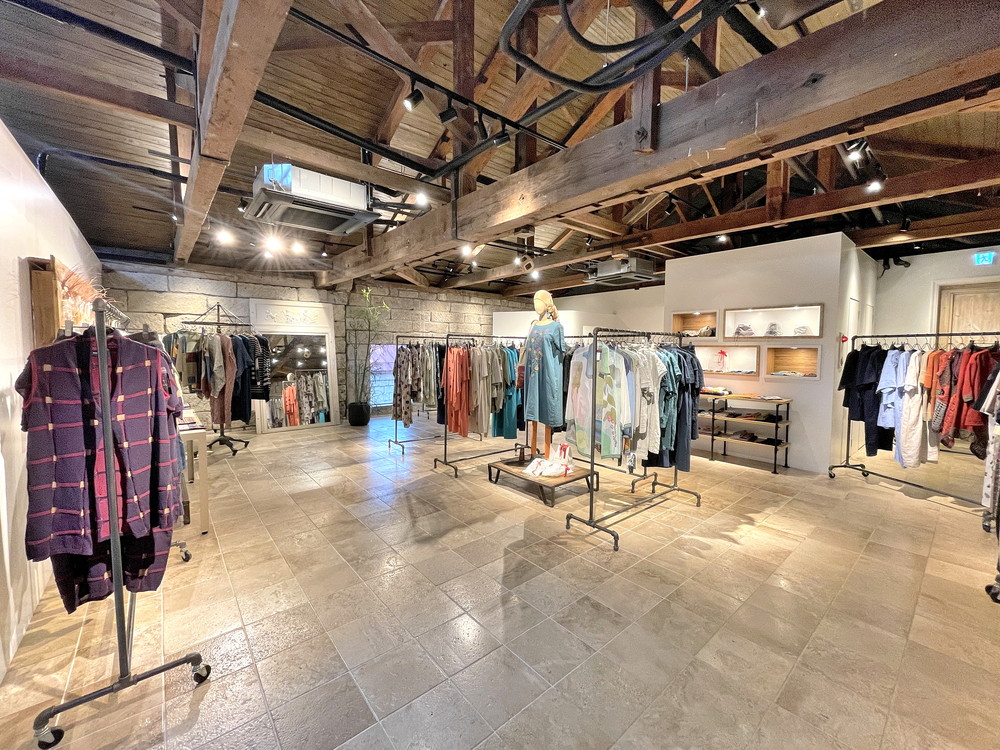 It was the spring/summer season when I visited (June).
Most of them are made of light materials, and some even use Japanese paper!
It seems that the lineup changes every season, so please come and visit regularly.
◆Recommended products of GEA 1
・M.&KYOKO
M.&KYOKO is the brand of Mr. Masaki Sato, the 4th president of Sato Seni, and his wife.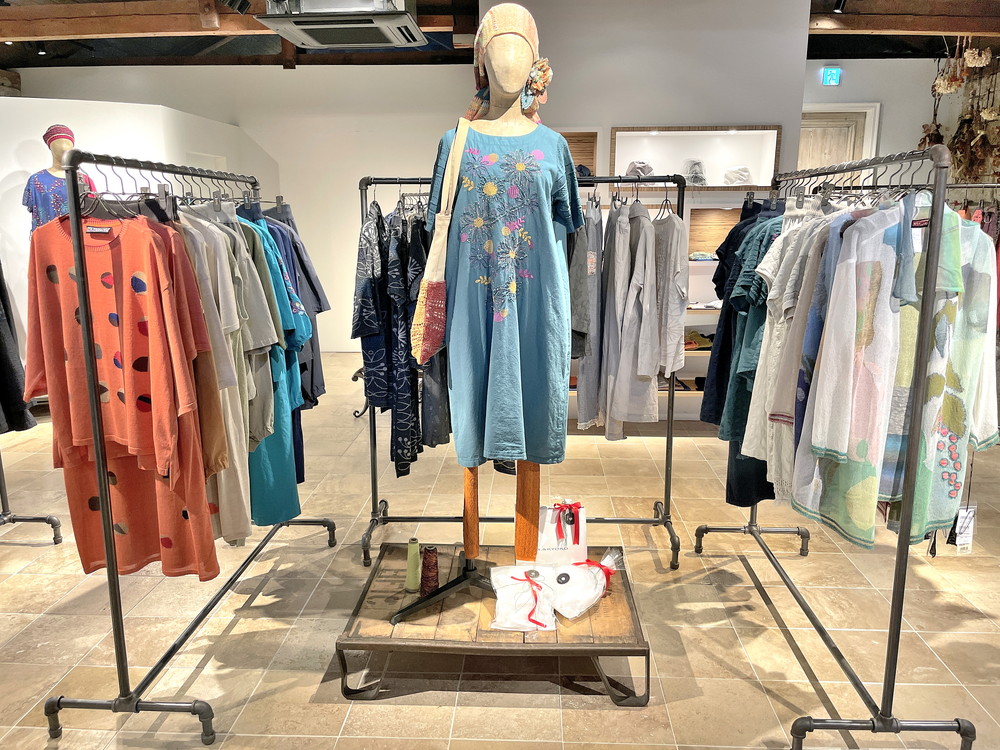 Although it uses a lot of colors, it is not too flashy, so it can be worn by people of all ages.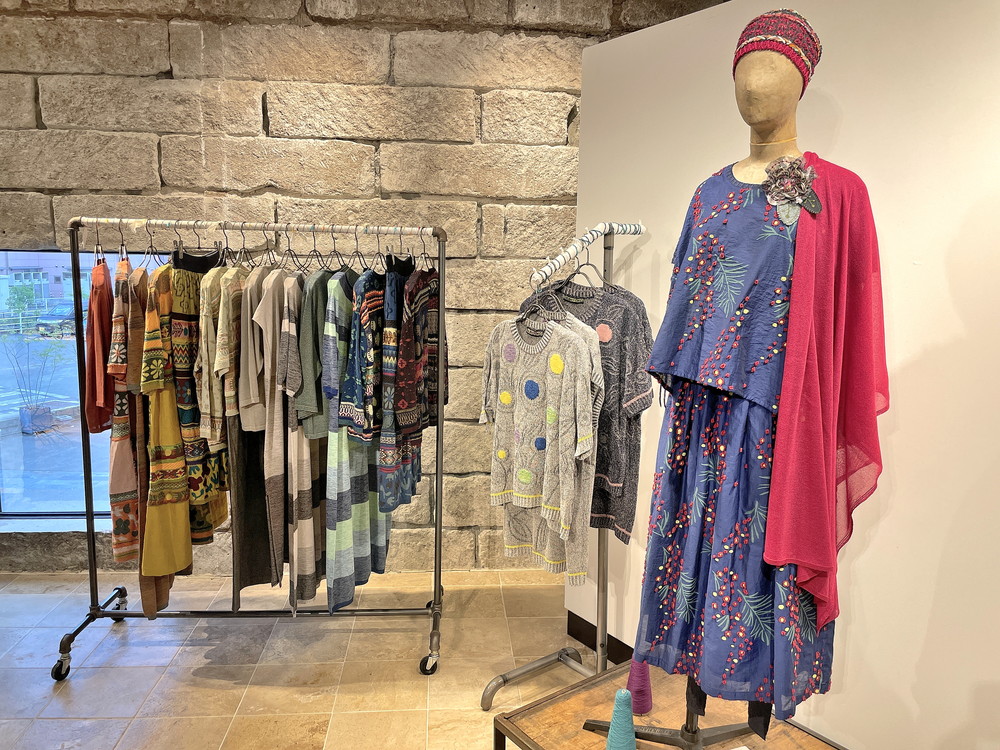 It is said that the color development is also focused, and it is also a point that the atmosphere changes depending on which color you choose even with the same design.
This unique color is supported by Females all over the world.
・FUGAFUGA
This is also an original brand of Sato Seni.
The concept of FUGAFUGA is "ageless & sizeless".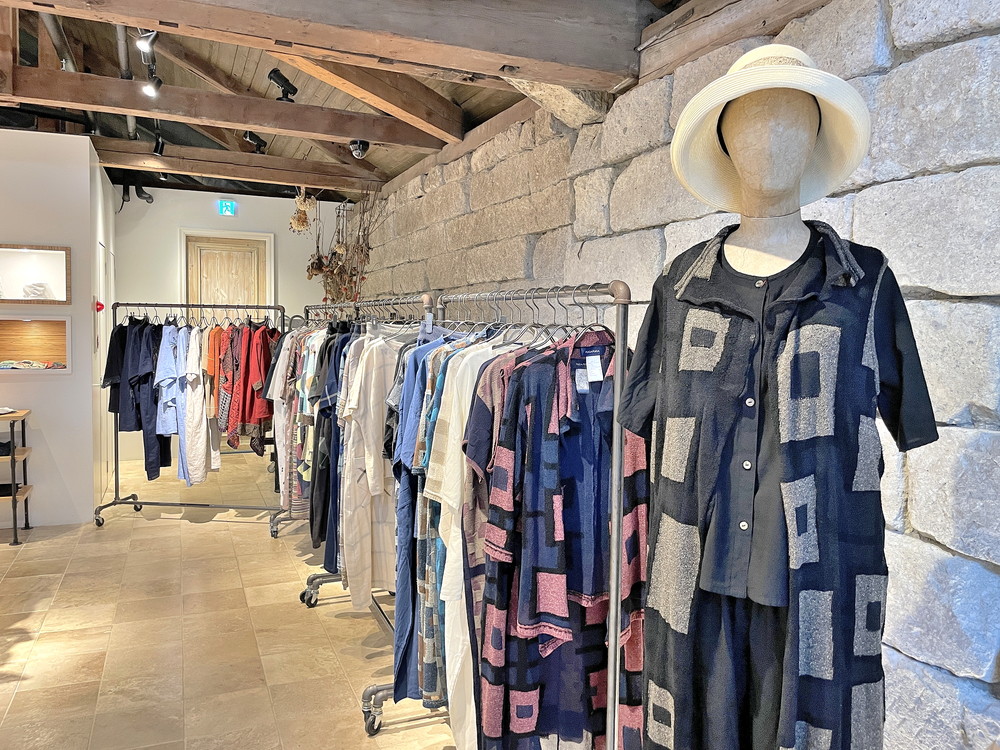 With blue, beige, and black as the base colors, guest colors create the collection.
The atmosphere is completely different from M.&KYOKO, which I introduced earlier.
An original brand that can only be created with a strong commitment.
The quality and design are a must-see because everything from the selection of raw materials to the production of threads and finishing is done in our own factory!
・Mame Kurogouchi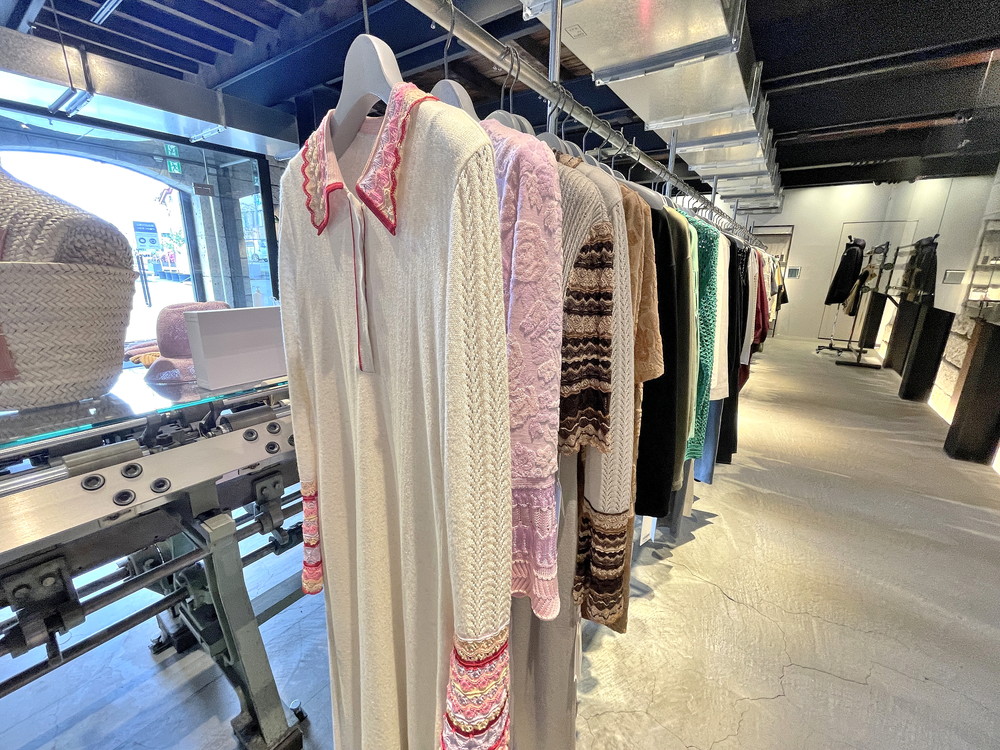 The brand was launched in 2010 by designer Maiko Kurogochi, and features designs that make you feel delicate and powerful.
It seems that there are many enthusiastic fans.
It's not cheap at all, but there are many items that are well made and can be used for a long time.
There were items recommended for gifts such as socks and accessories.
3. GEA 2
Next, we will introduce GEA 2 in the lifestyle area.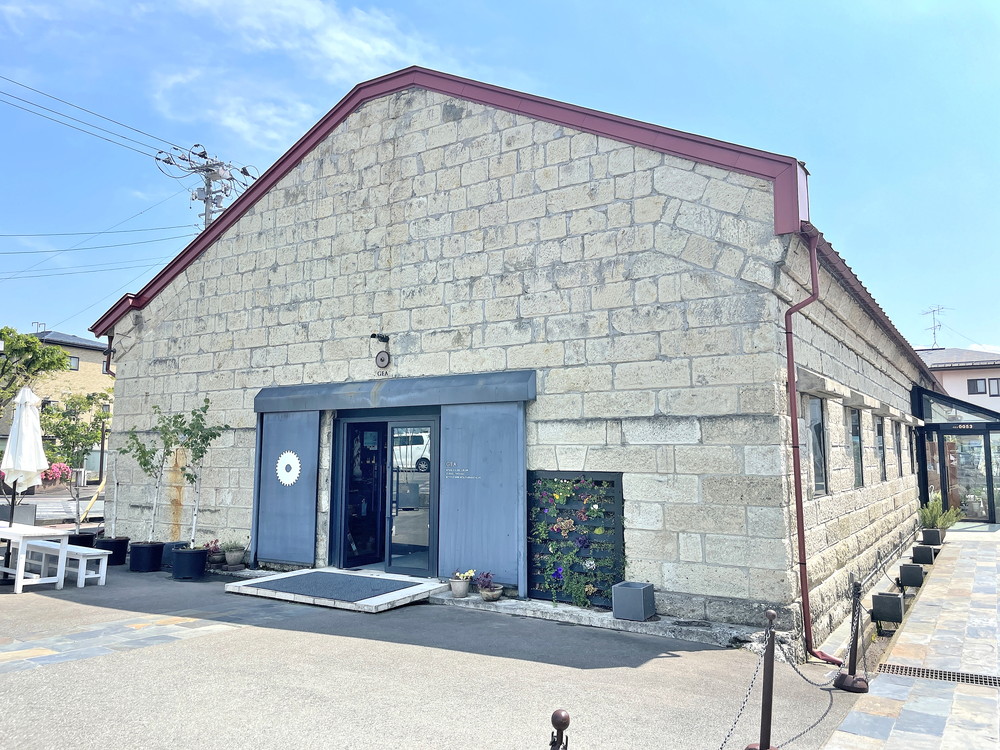 Here is the inside of the shop!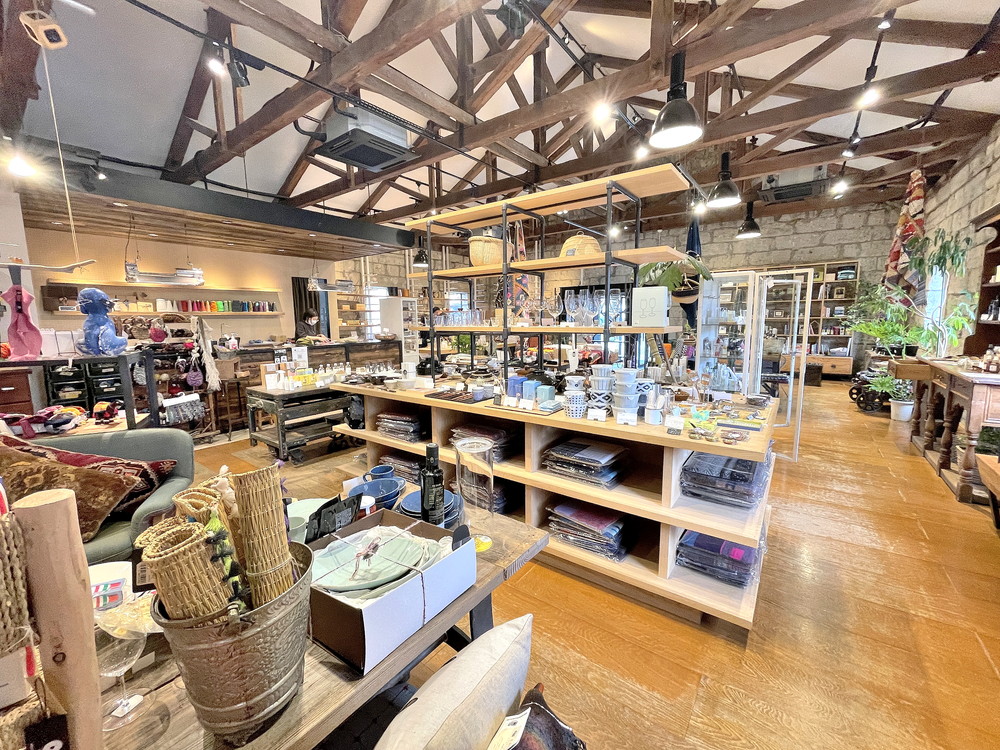 This is also a scene that stirs up a sense of excitement.
Specialized buyers are purchasing from Japan and overseas, so there are high-taste products.
The display in the shop is also very nice!
Just like GEA 1, time goes by fast in here!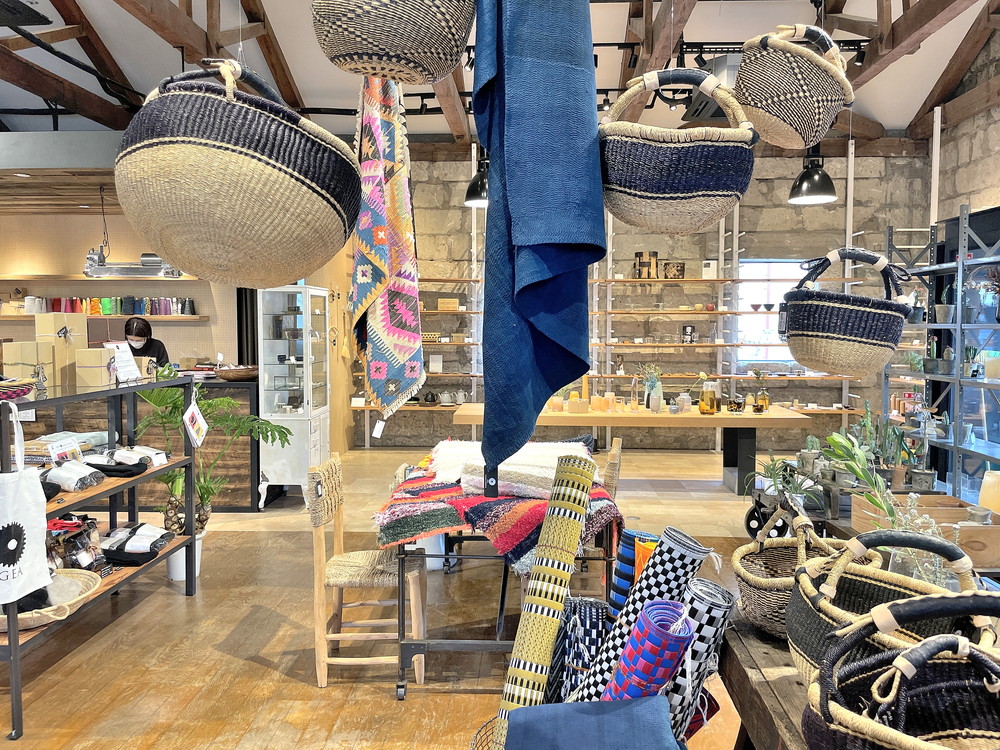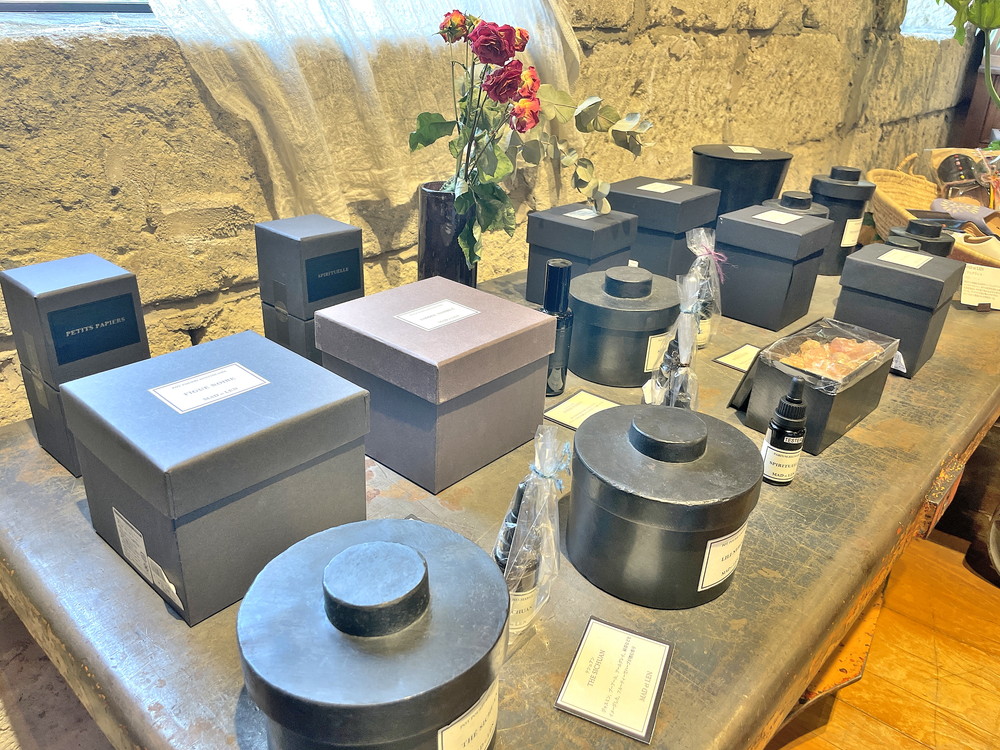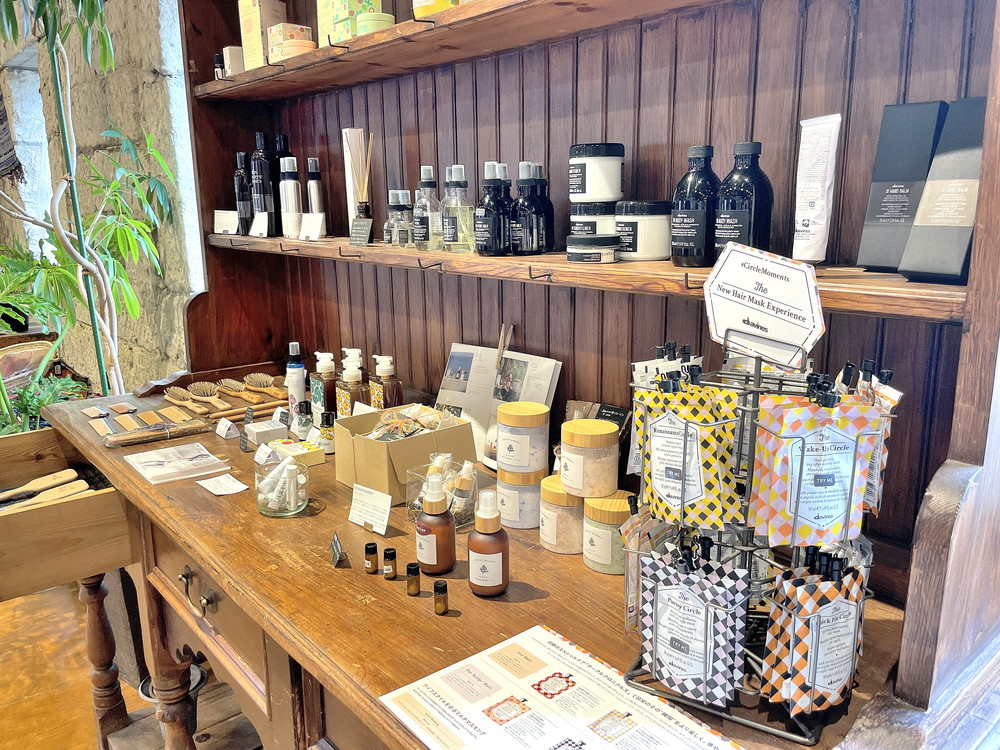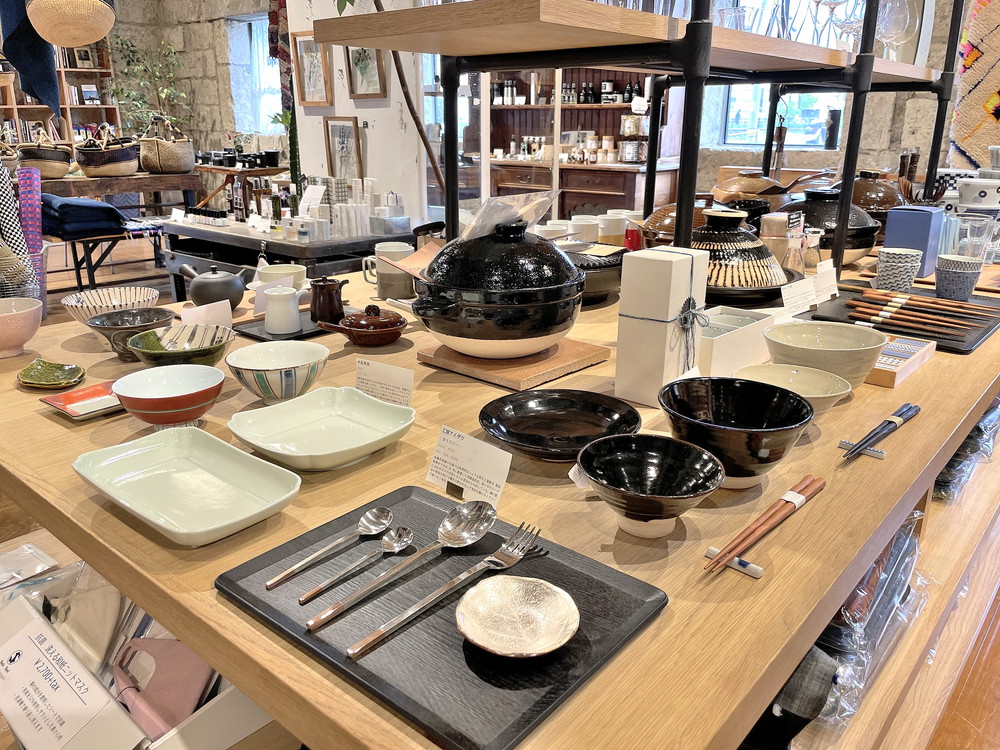 Book selected by theme are also lined up.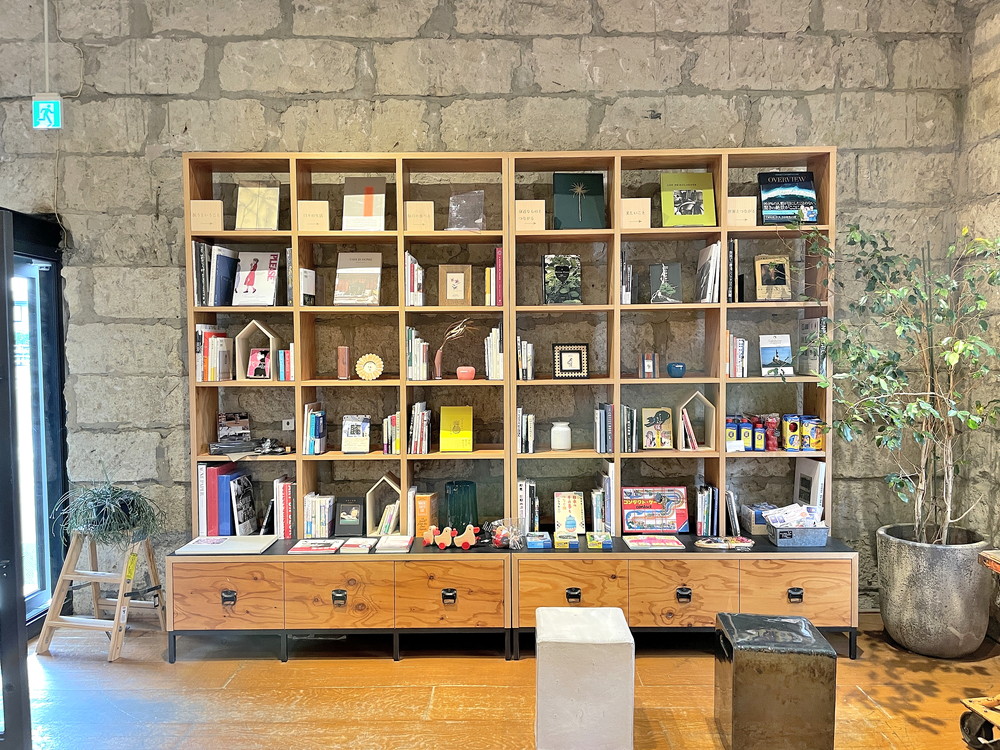 You may find bargains here that you can't at other bookstores.
And there is a gallery space on the right side of the entrance.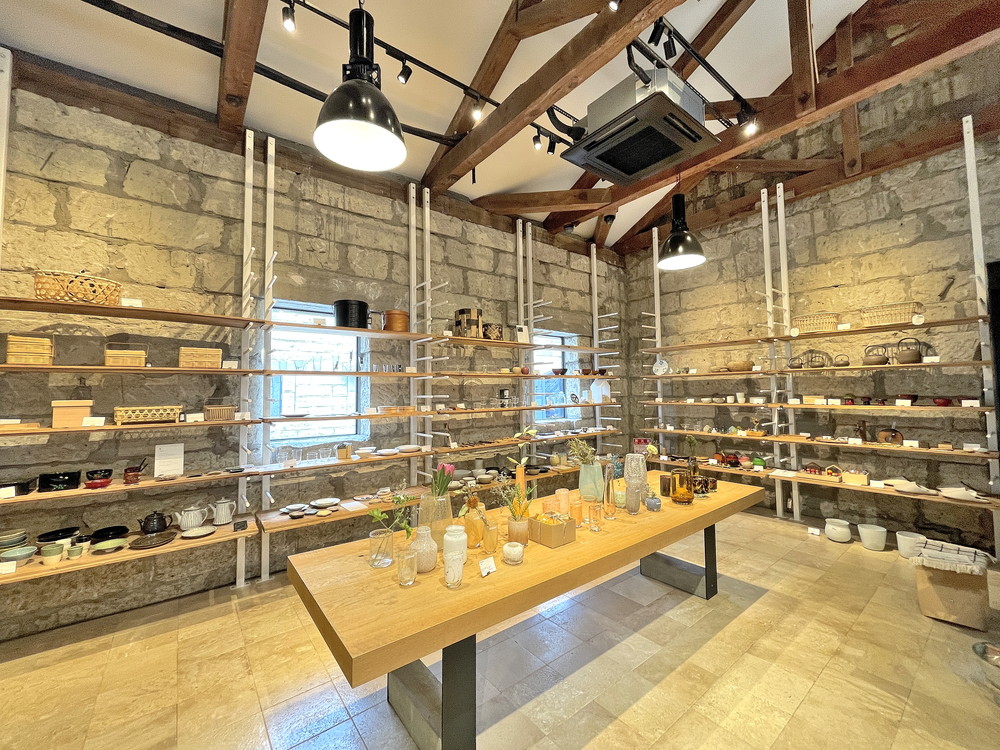 Unique works ordered from in and out of the prefecture are lined up.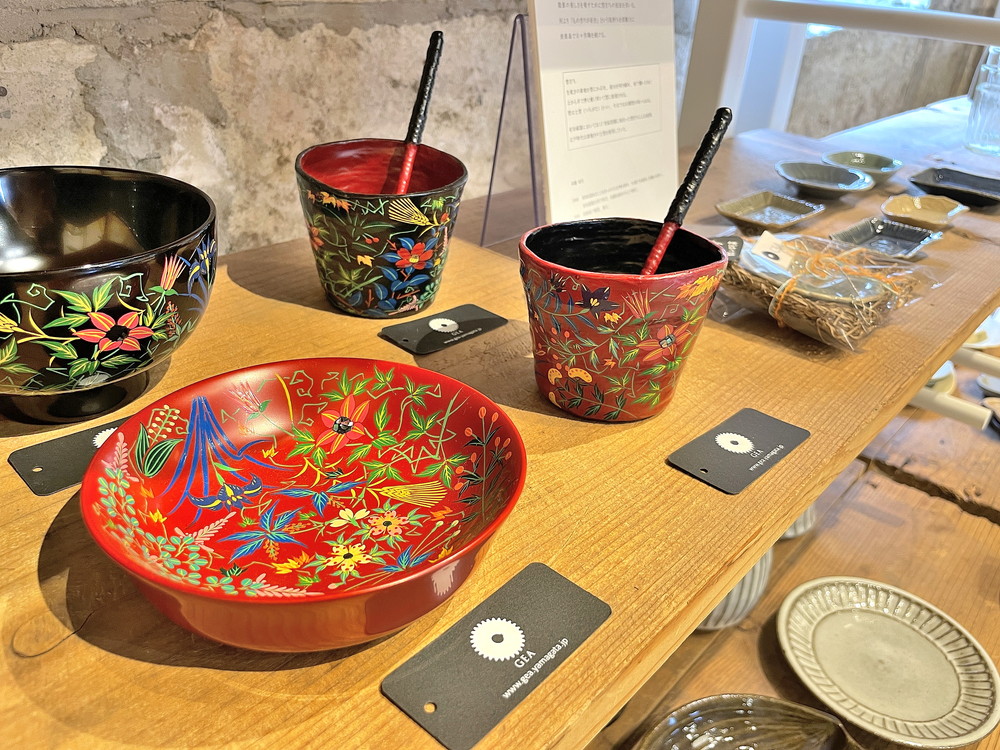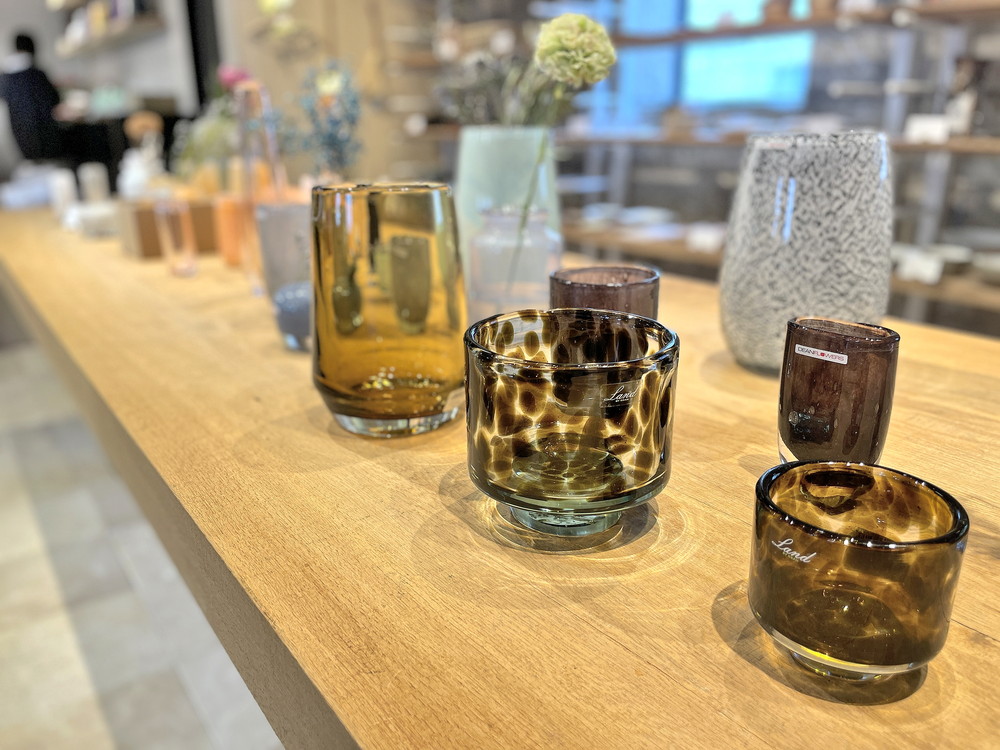 There were also works by artists in Yamagata Prefecture.
A vase of popular products.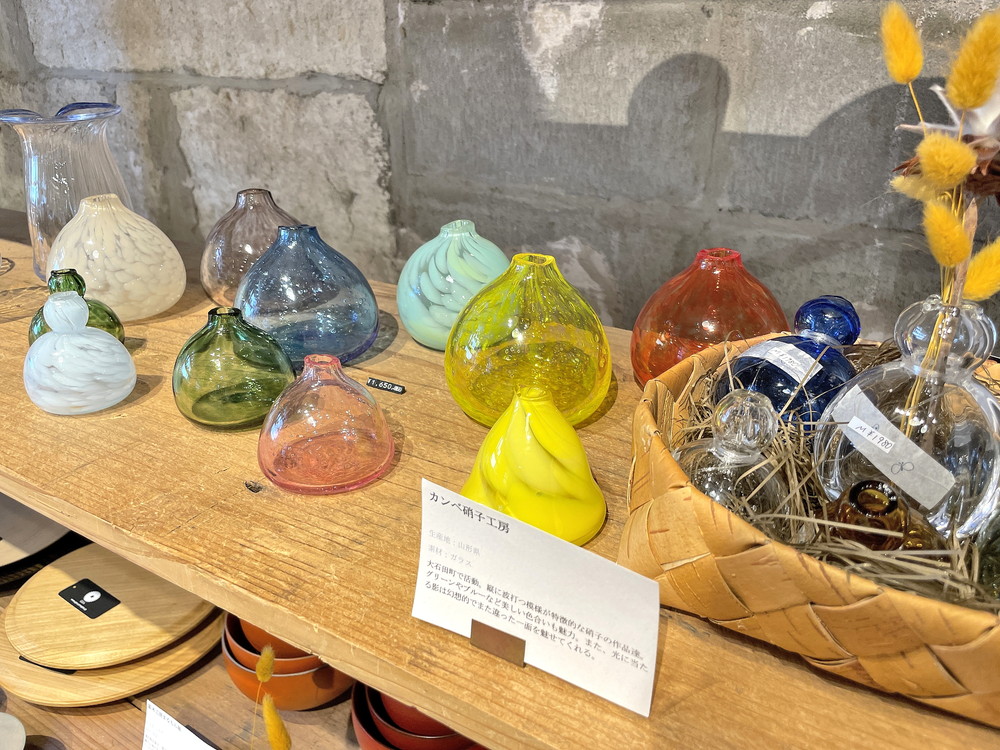 Each one has a different color and shape, so it's fun to find your favorite.
In addition, there are works from the Sato Wood Studio which is doing wooden craftsmanship at the foot of Zao.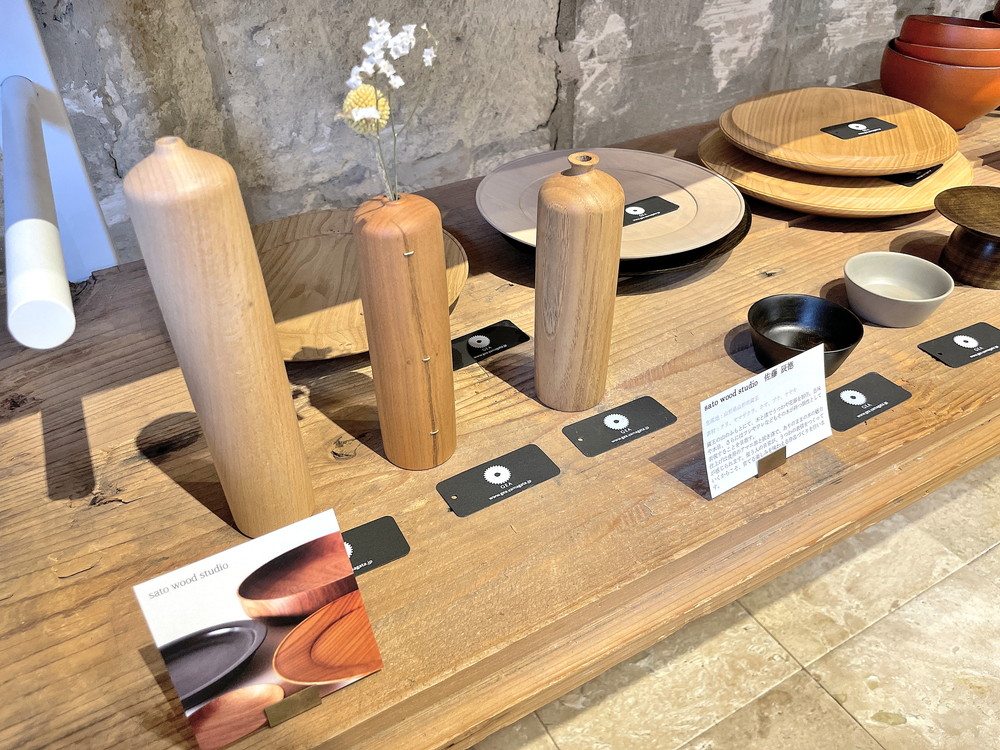 At Hirashimizu, Yamagata City, you can see and purchase carefully selected works such as "Seiryu-gama," which produces "pottery that makes use of the characteristics of the local clay."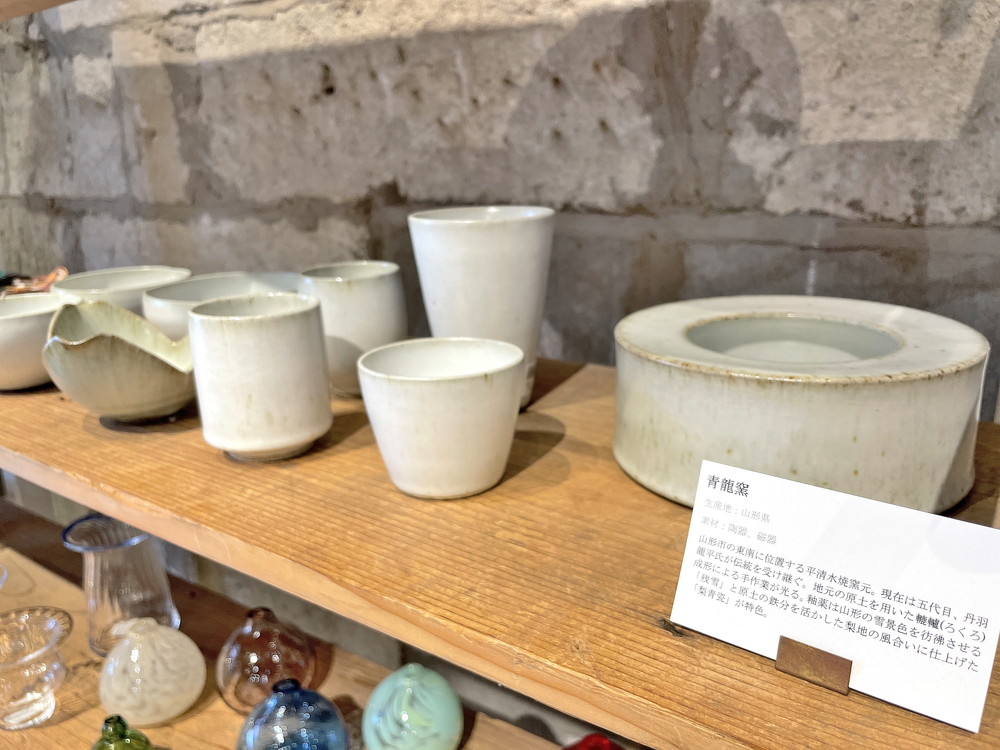 ◆Recommended products for GEA 2
・GEA baby! cotton baby leggings
We recommend these cotton baby leggings at GEA 2, which has a variety of kids' items.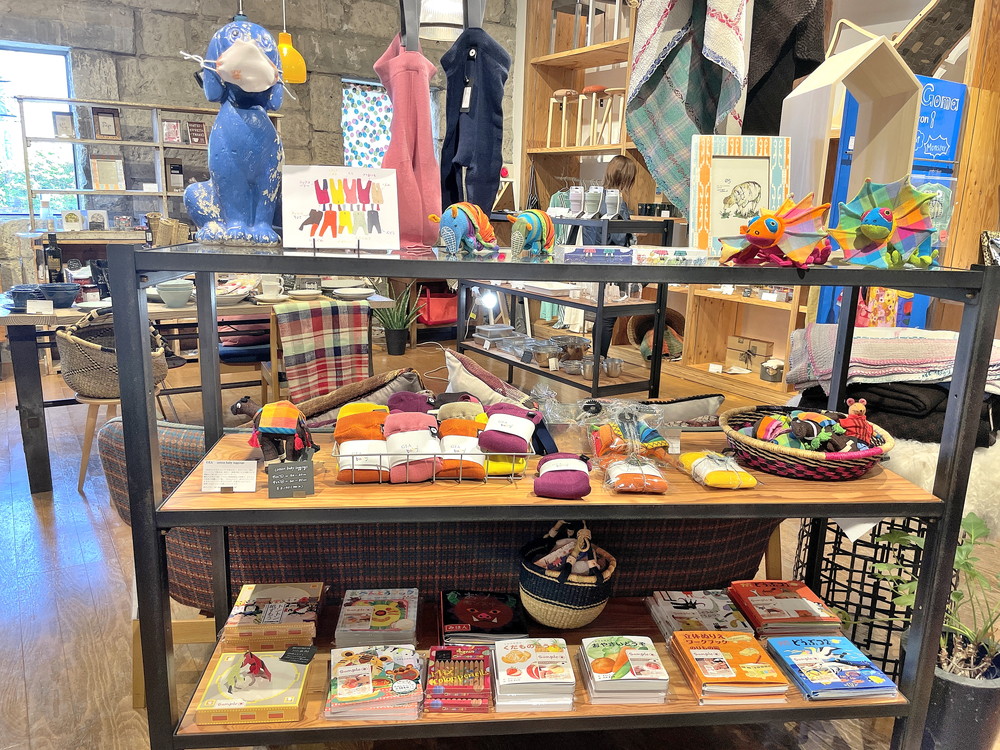 What a new baby product from GEA.
By using safe and secure materials and adding Sato Seni's technology, this product is more baby-friendly.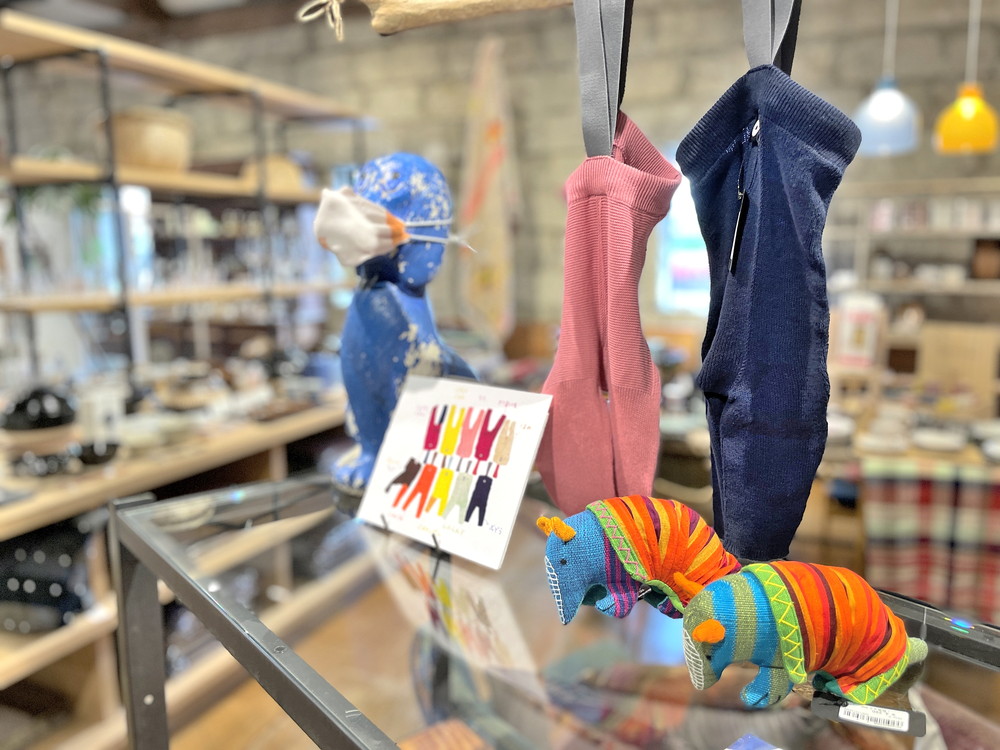 It comes with a strap, so even if the baby moves, it won't slip off, which is a nice point.
It's also good for baby gifts and small gifts.
It's cute that the colors are the names of vegetables and fruits.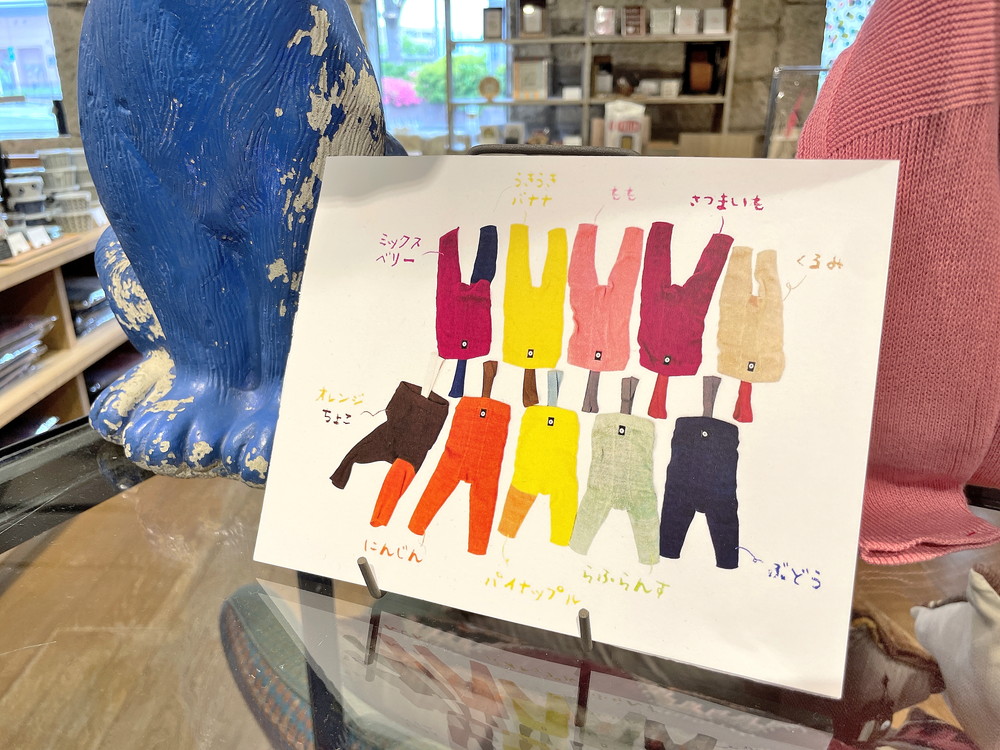 This is what I wanted when my child was a baby.
・GEA original products
The next recommendation is GEA's original underwear!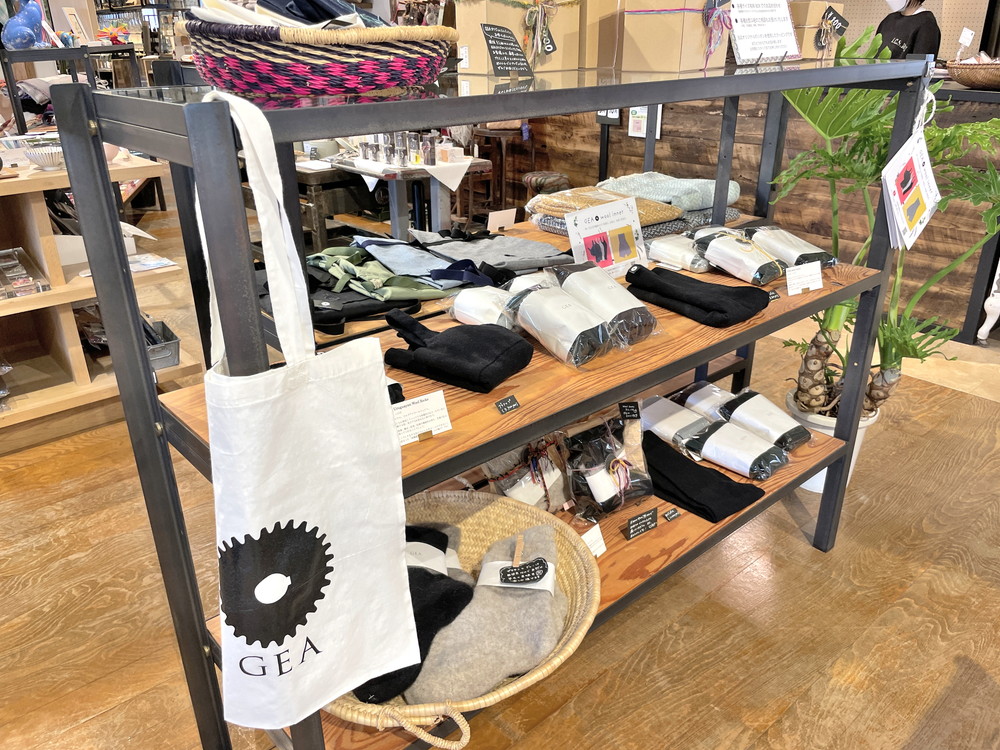 Large room socks that can be worn over socks.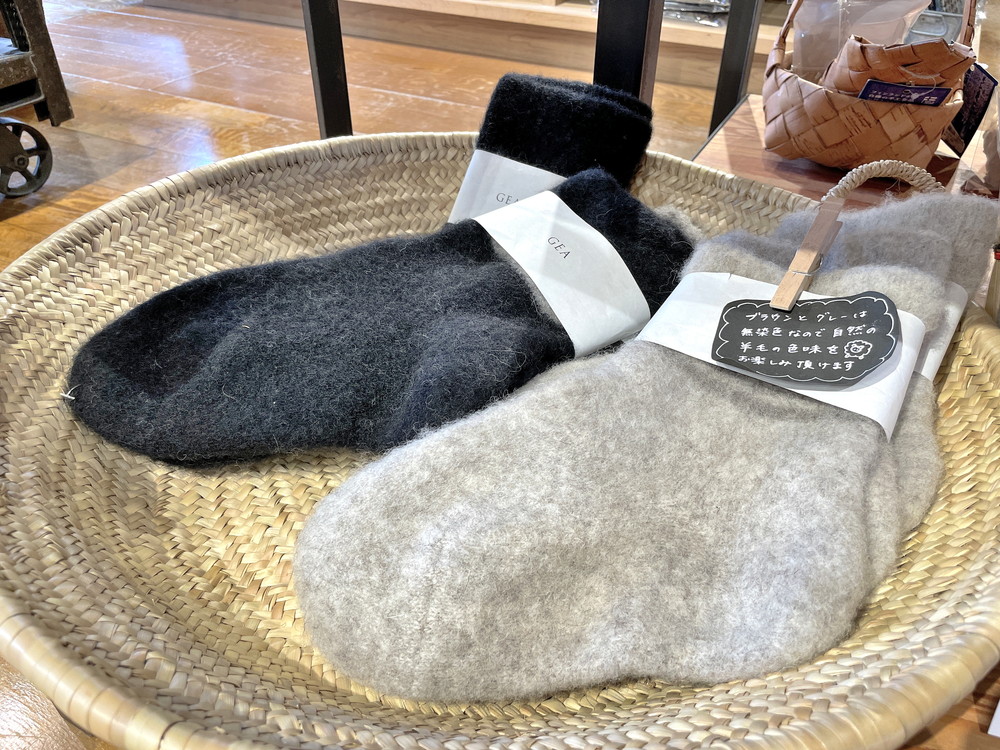 Incorporates wool processing technology to warm your feet that tend to get cold.
When you hear the word wool, the image of a sweater may irritate you. don't you think?
GEA's original innerwear uses threads specially made for this product, so it doesn't feel itchy and is extremely comfortable to wear!
It is a versatile item that feels good on the skin and can be comfortably worn all year round.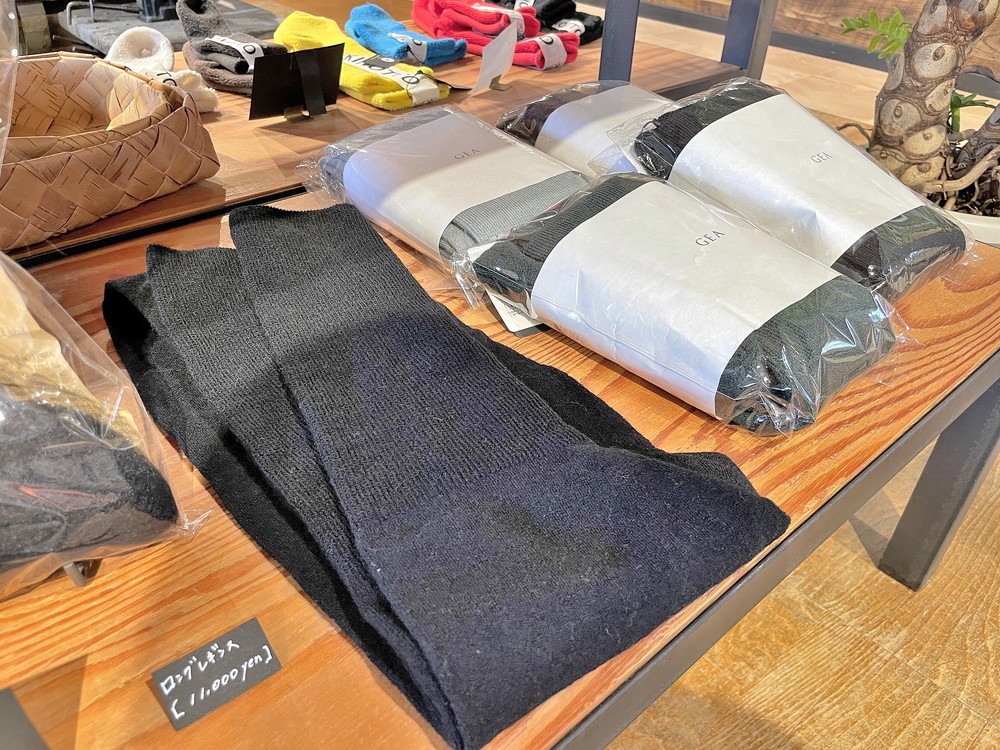 It is great for winter and the cooler season.
The wrapping of the purchased products uses the thread that they are proud of!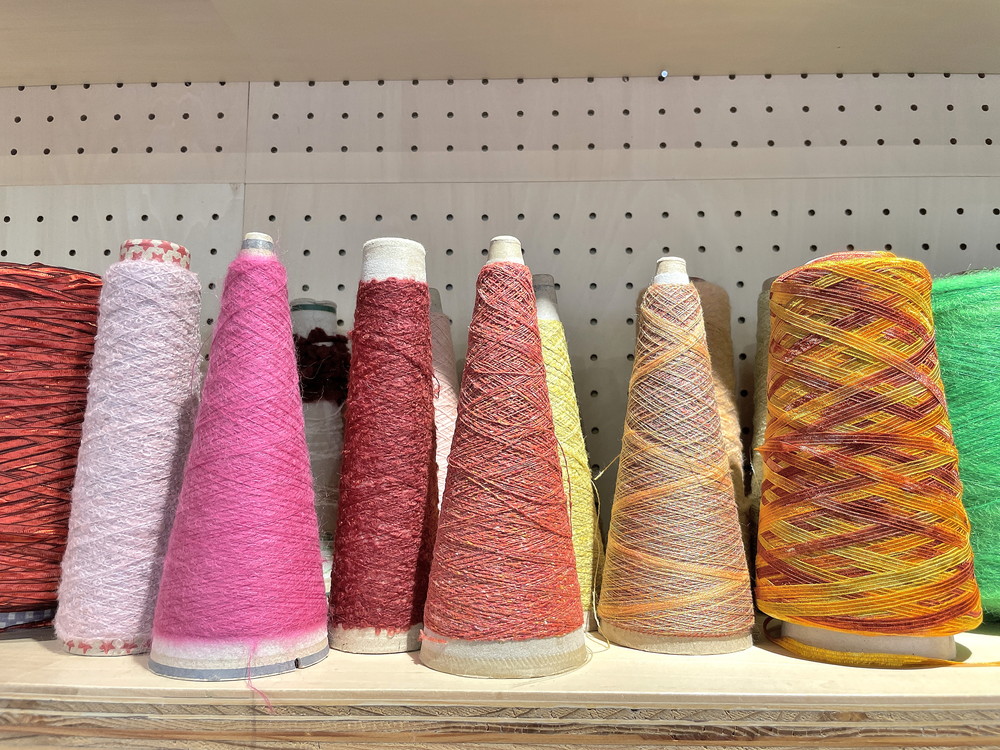 There is no doubt that it will be a wonderful present that cannot be found in other shops!
4. GEA 3
The last thing I visited was GEA 3, which is packed with the charm of Yamagata's food.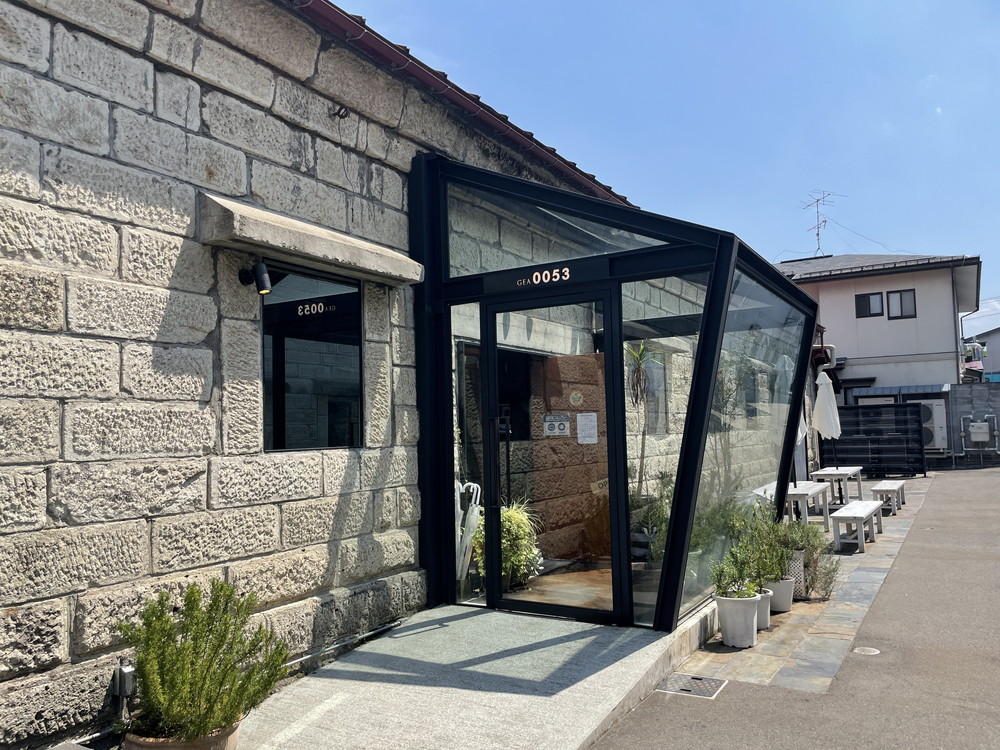 I have used it several times, and it is a popular spot that is always crowded with customers.
◆ Grocery
This grocery corner is the first thing you see when you enter.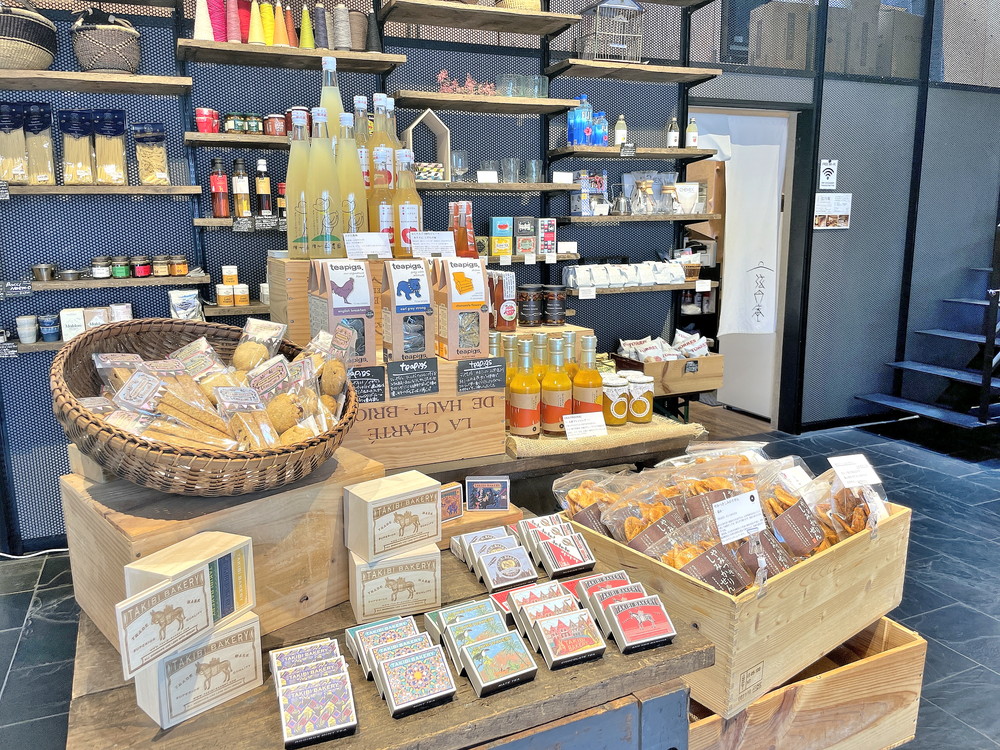 It's fun just to look at the items, and the waiting time doesn't bother me at all.
GEA 2 and GEA 3 are in the same stone warehouse, so we recommend looking at the grocery corner along with the miscellaneous goods' one.
There are many items on the backshelves too!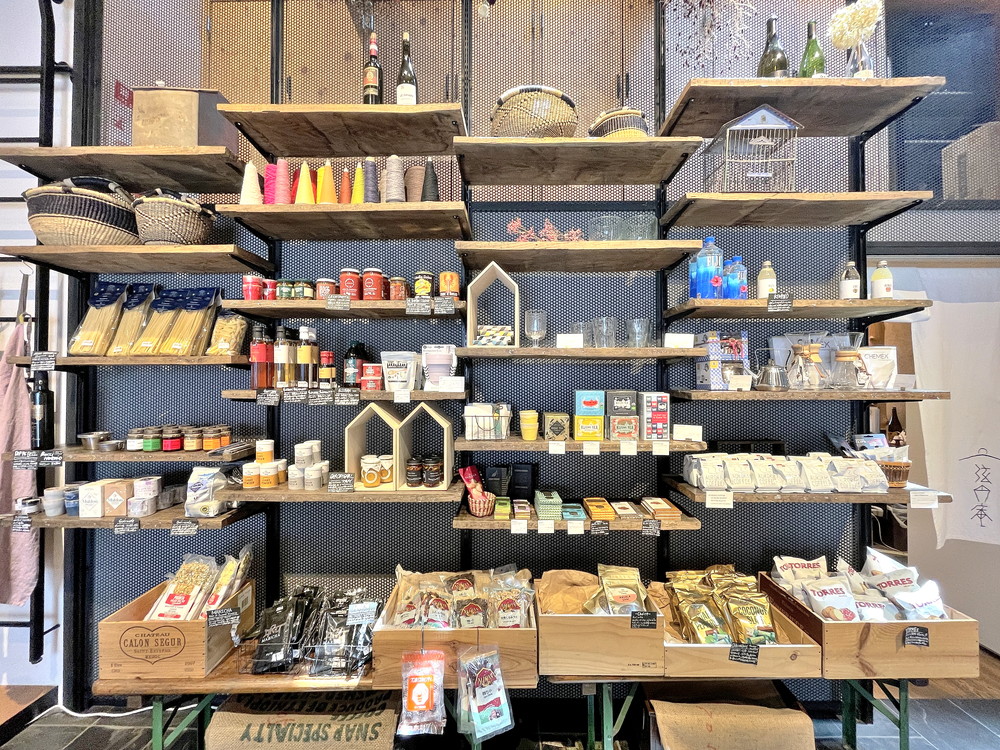 It is unique to GEA that the winding thread is casually used as interior decoration.
Some of the products are actually used in the restaurant, so if you like something, you can buy it as is.
Not only domestic products, but also many overseas products were lined up.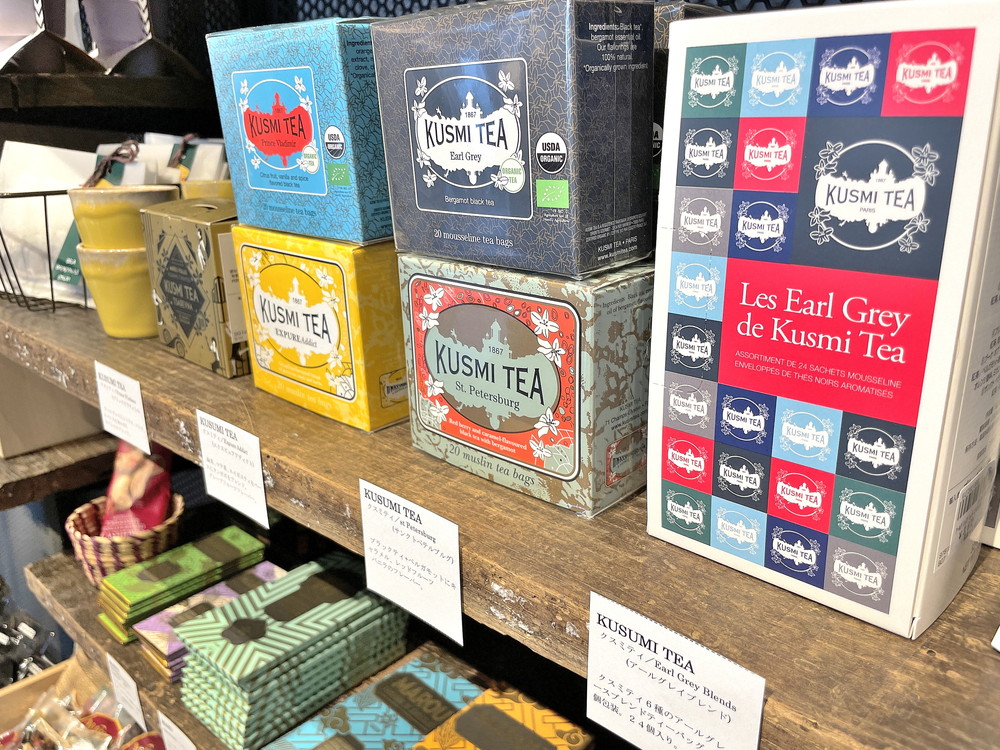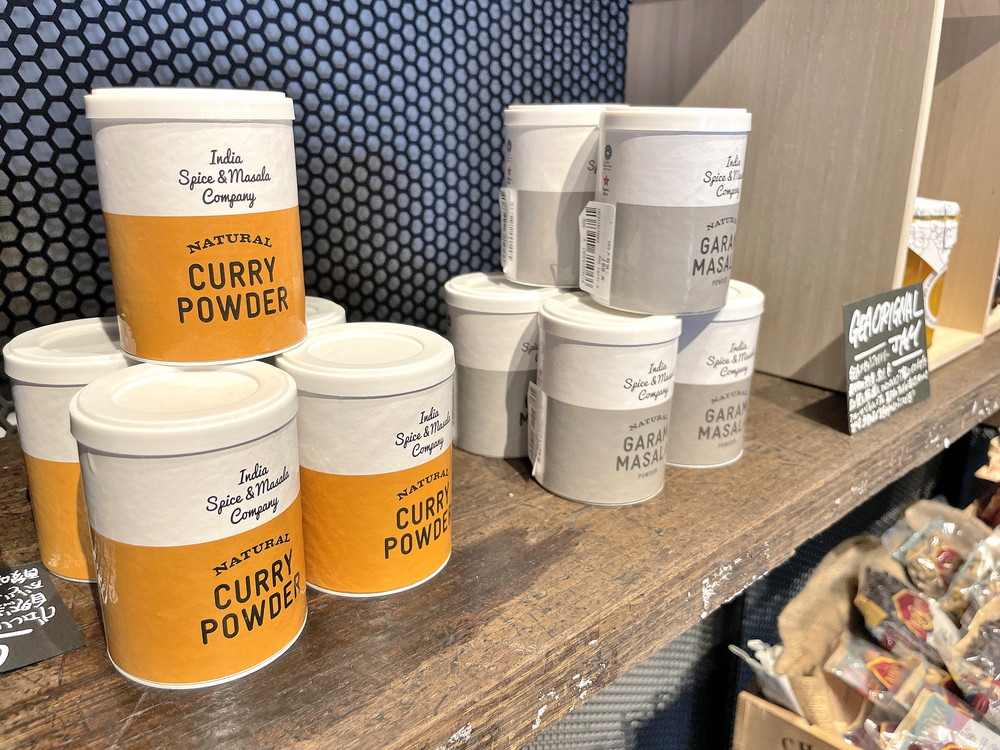 There are also original products made in collaboration with companies in the prefecture.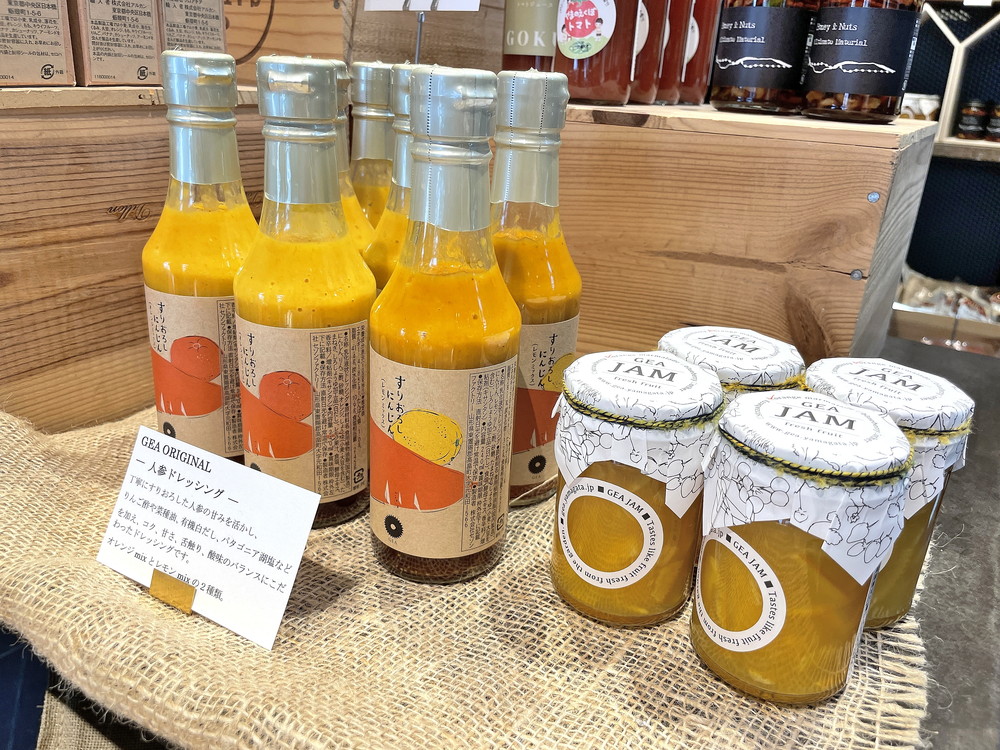 Check out the products that are only available here.
◆GEA0053
A view of the restaurant area.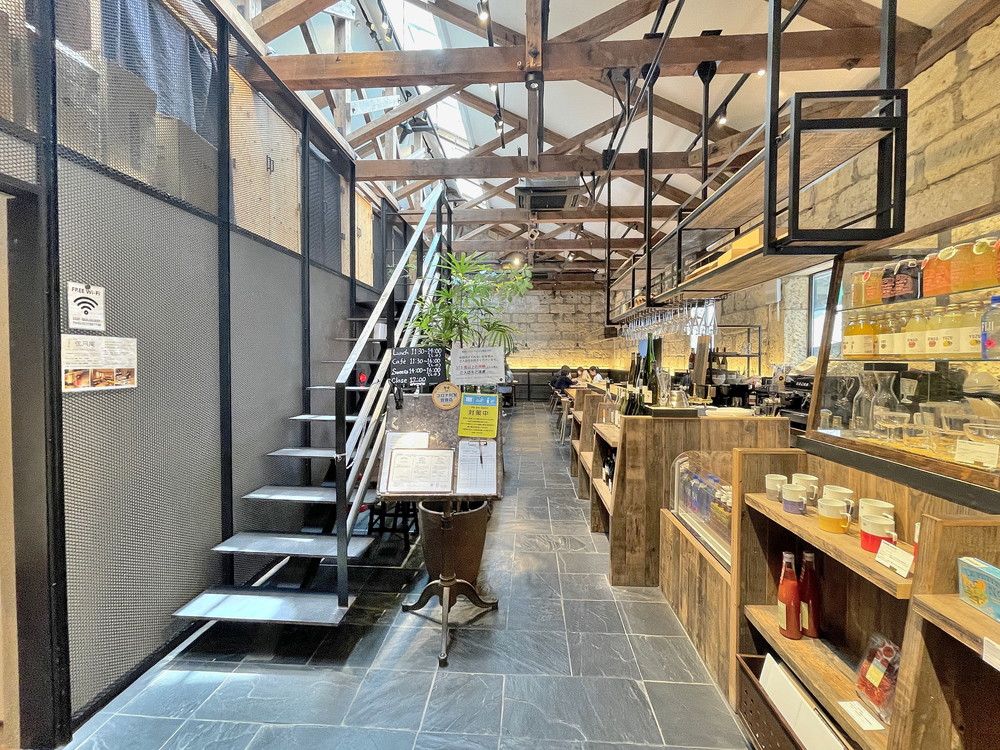 The stone and woodgrain interior has a great atmosphere!
It is also recommended for small anniversaries.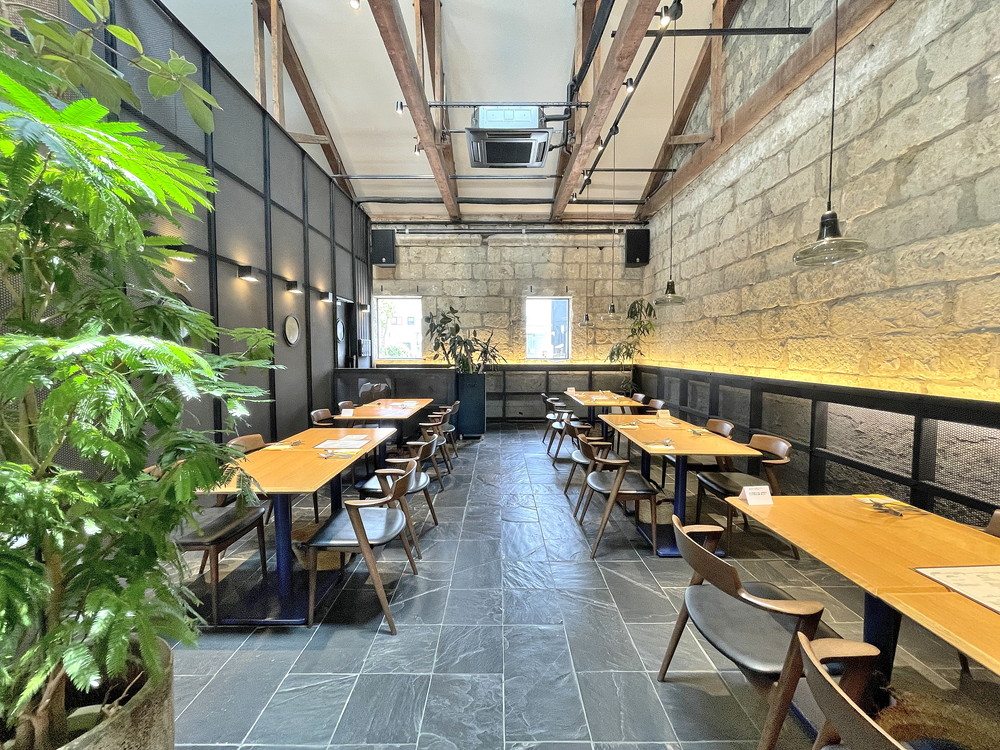 ・ GEA0053 lunch menu
GEA0053 is a restaurant where you can encounter different ingredients and flavors every time you come because the menu changes depending on the stocking situation.
A Course: 1,760 yen (tax included)
Pasta with seasonal salad, homemade focaccia and mini pudding + Drink
B Course: 2,420 yen (tax included)
Assorted appetizers, pasta or risotto with seasonal salad, homemade focaccia and mini pudding + Drink
C Course 3,520: yen (tax included) [Limited to 10 servings]
Assorted appetizers, pasta or risotto with seasonal salad, main dish, homemade focaccia and dolce + Drink
・ GEA0053 lunch report
This time I had the recommended B Course.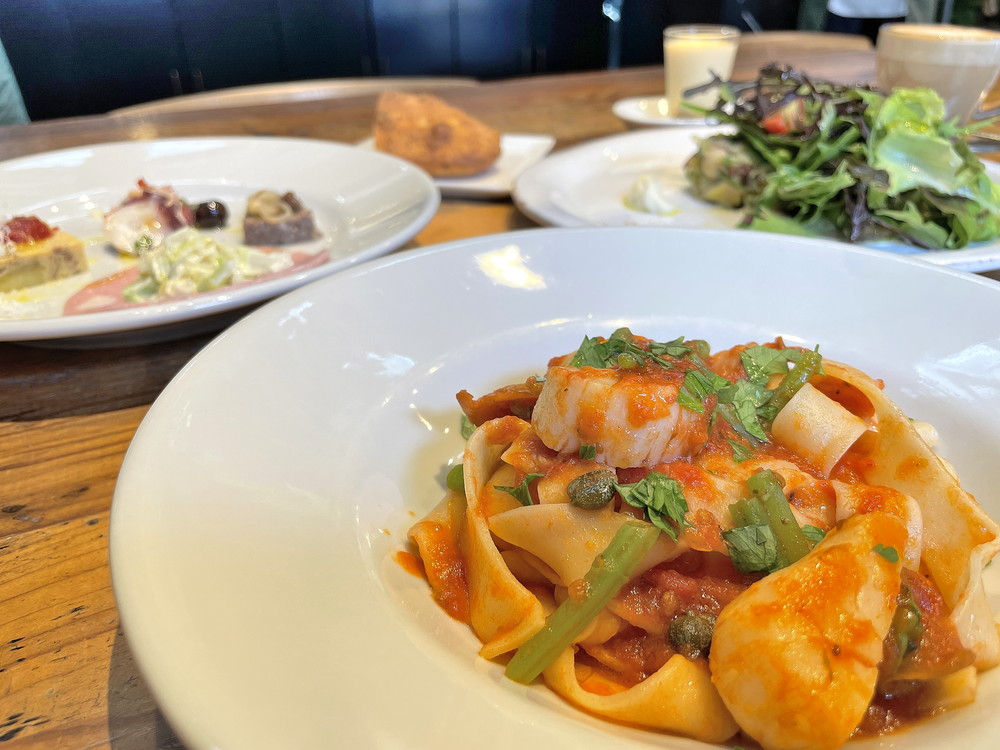 First of all, seasonal salad and homemade focaccia were brought.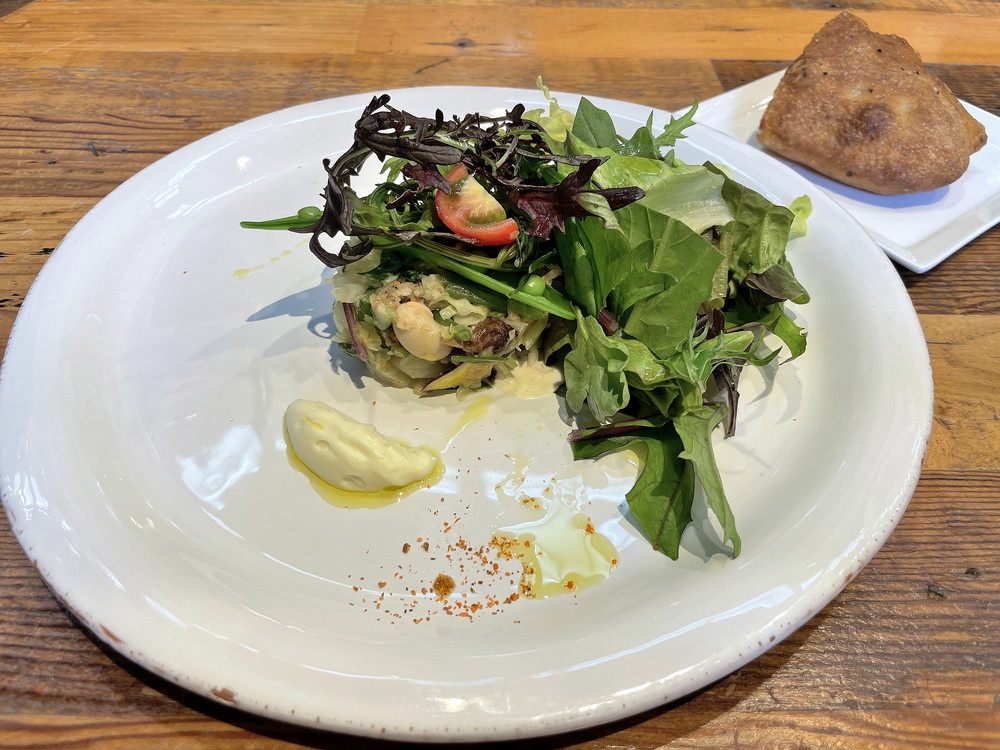 The round salad in the center is Panzanella, which is filled with fine bread.
The crunchiness of the vegetables stood out, and the combination with the rich homemade cheese sauce was outstanding!
It is an exquisite salad that is perfected because the distance between the chef and the producer is close.
Next, an assortment of appetizers.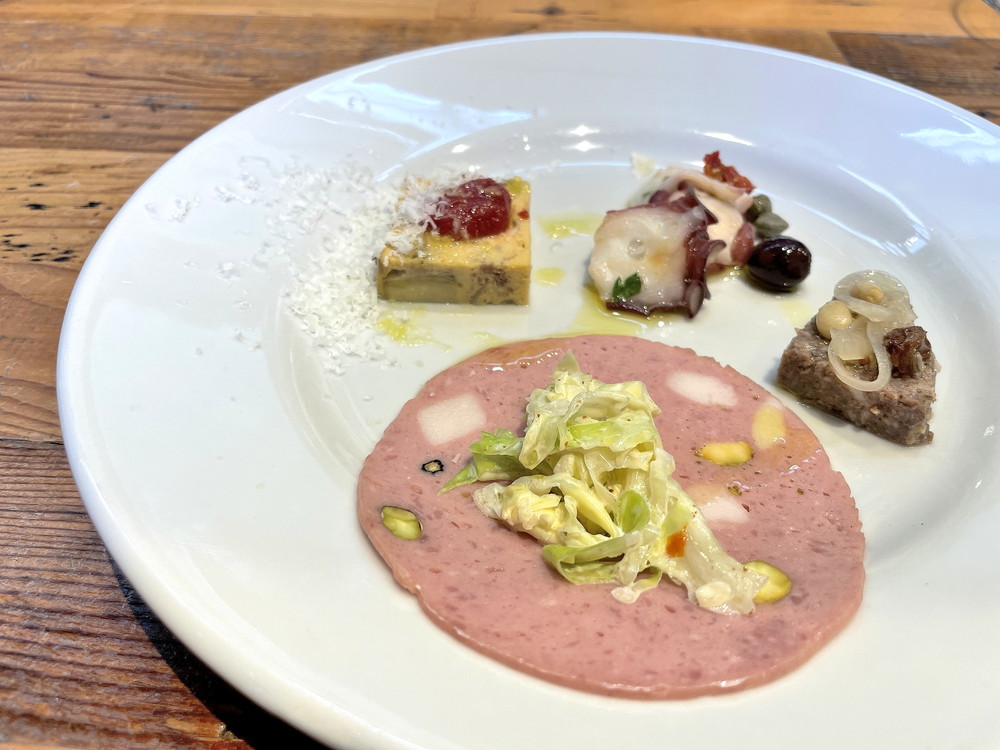 From the front, homemade ham with pistachio, pâté, marinated octopus, and frittata.

Already, the high degree of perfection of each is amazing…
It was a delicious and fun appetizer plater with a rich cheese taste and unexpected ingredients.
Every time I eat one mouthful, I regret it…
And here comes the long-awaited pasta!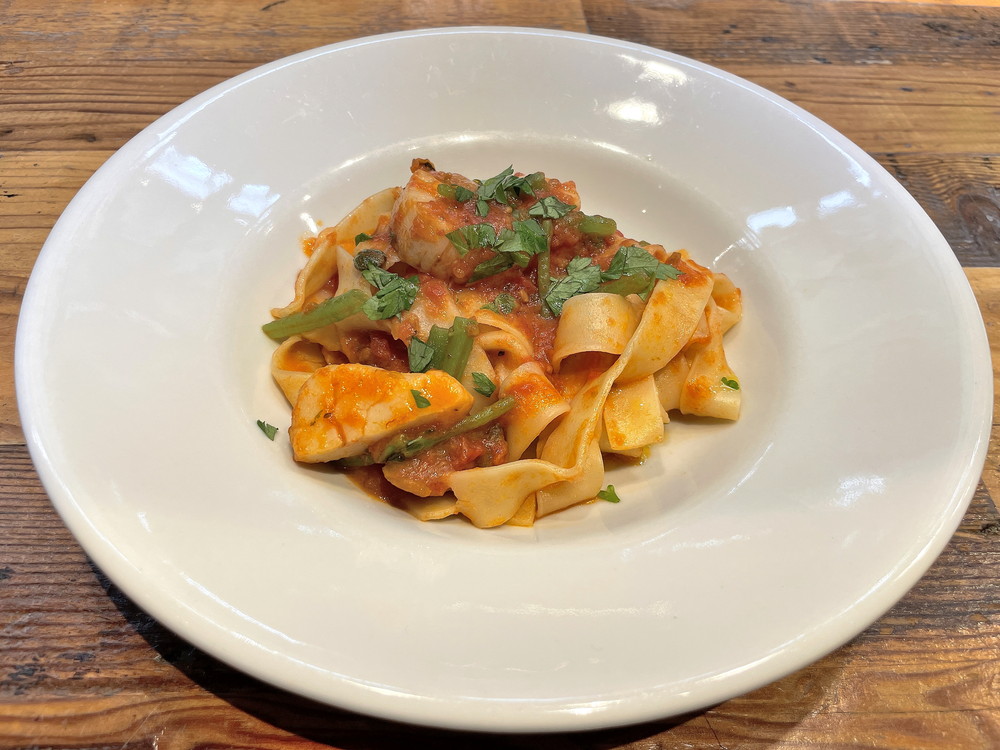 I ordered Fettucine scallop and mushroom aglio olio.
I asked for the option to change to the chef's hand-made pasta.
Pasta with a wide width is preeminent and satisfying to eat!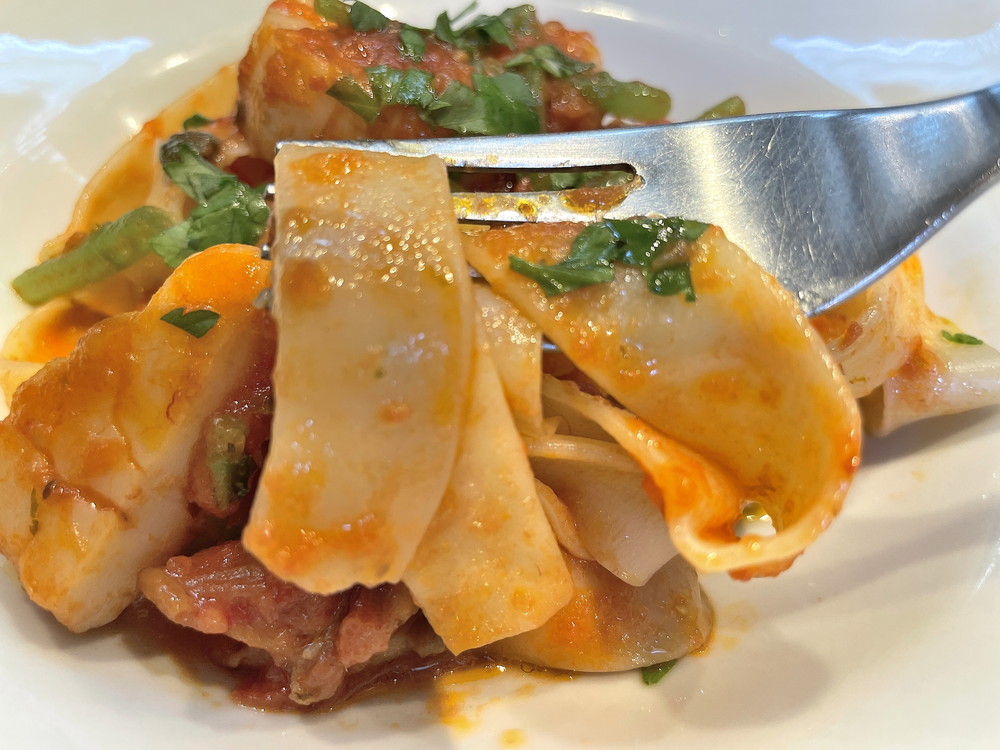 The surprisingly soft scallops and the rich sauce were a perfect match!
This is a dangerous deliciousness that you can eat as much as you want.
Please be careful.
After dinner, take a break with café latte and homemade pudding.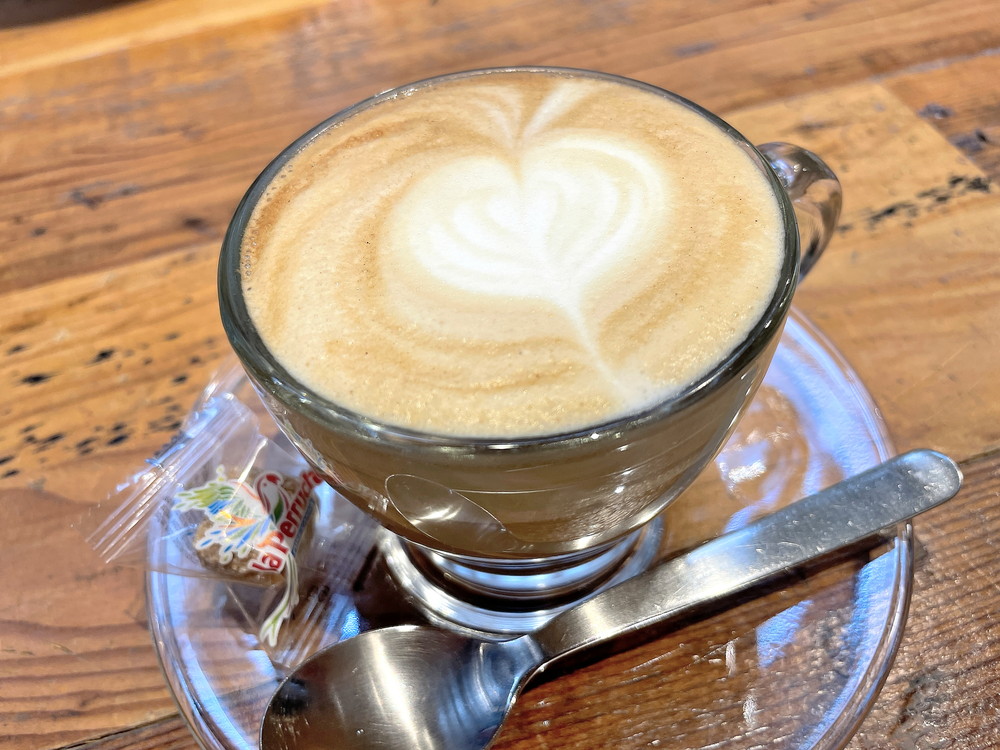 This time I used it for lunch, but for dinner you can enjoy Italian-based course dinner or the à la carte menu.
This restaurant is recommended not only for dining with friends, but also for special occasions such as anniversaries.
◆ GEN-EN-AN
Did you know that there is a Japanese restaurant that opens only at night between GEA 2 and Restaurant 0053?
Its name is Gen-en-an.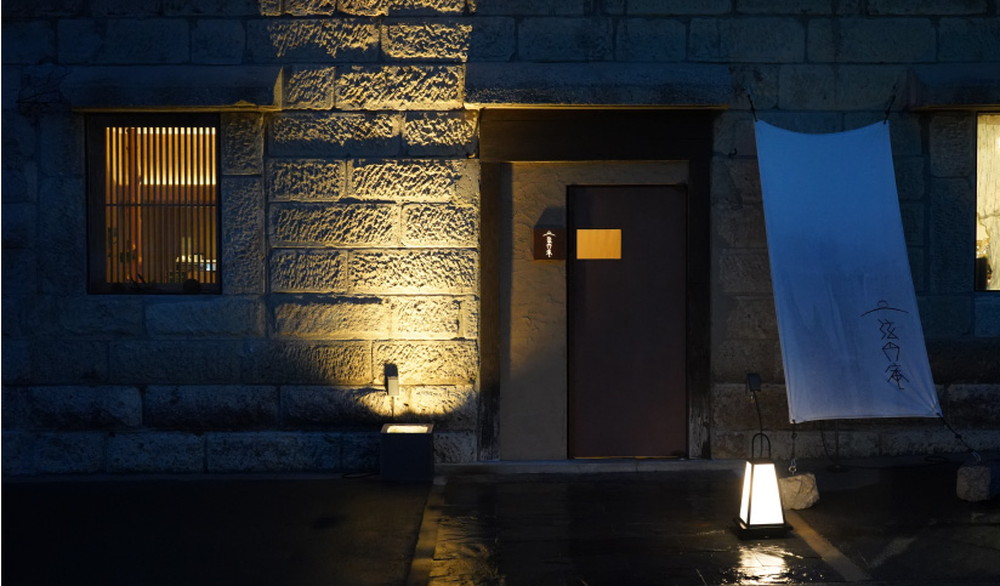 You can enjoy Yamagata's local sake and specialty dishes.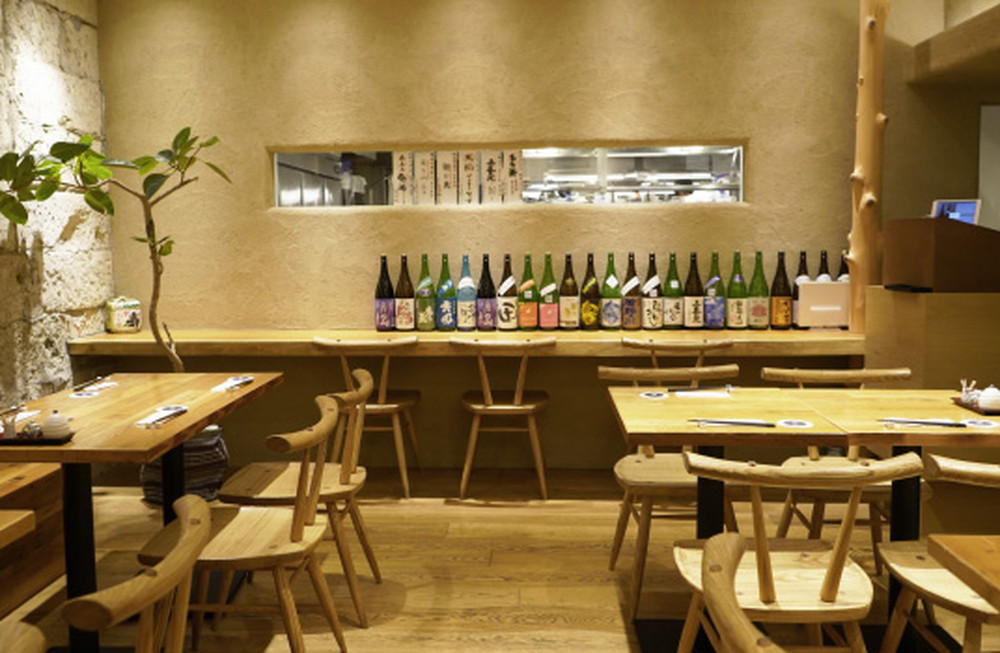 We recommend the Yamagata herb chicken liver, heart, and gizzard made with a unique recipe.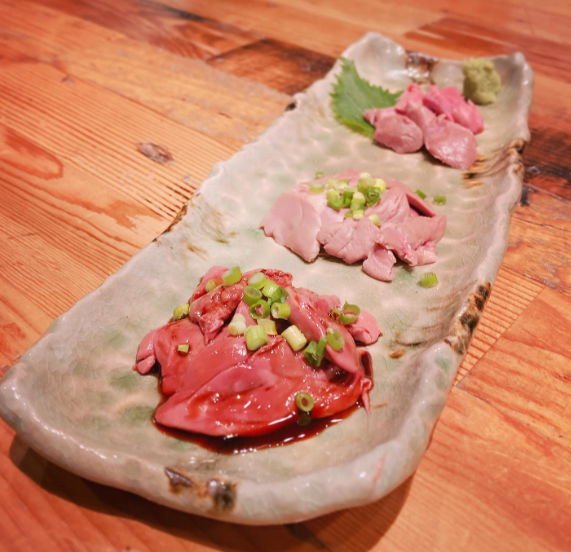 In addition, you can also enjoy Yamagata-style dishes such as soba noodles.
Please have a good time with delicious sake and food carefully selected by Gen-en-an.
5. Conclusion
Lastly, Mr. Hazome of GEA gave a message to the viewers of VISIT YAMAGATA.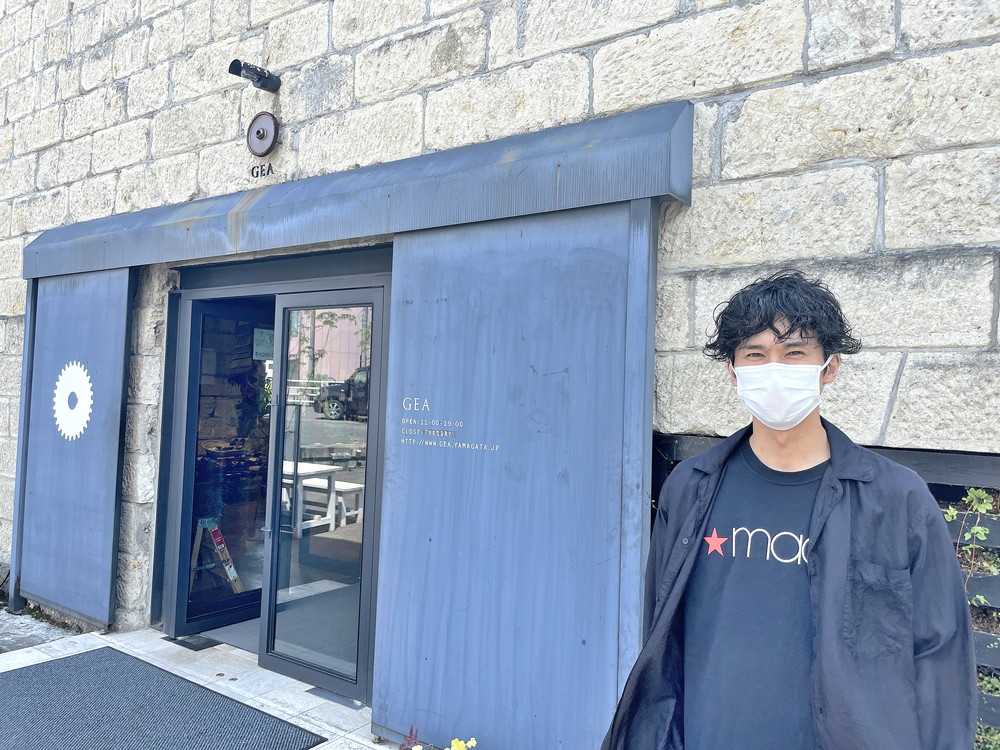 "I would like more people from inside and outside the prefecture to know more about GEA.
We strive to provide attractive items and menus so that everyone can be satisfied.
We hope that this article will help you learn more about GEA and come visit us.
We'll be expecting you! "
6. Basic information
GEA 1 & GEA 2
☎ 0237-86-7730
Hours
11:00~19:00
Closed
Tuesday & New Year's period
********************
GEA 3
◆ GEA 0053
☎ 0237-86-3930
Closed
Tuesday & 2nd and 4th Wednesday
■Lunch Hours
11:30~14:00
■Café Hours
14:00~16:00 (Wed. and Thu.) & 14:00~15:00 (Fri. to Mon.)
■Dinner Course Hours
Hours : 18:00-21:00 LO (Friday-Monday)
■Dinner à la carte Hours
17:30~20:30 (Fri. to Mon.)
◆ Japanese Restaurant Genenan
☎ 0237-86-3866
Closed
Every Sunday & 2nd and 4th Monday
Hours
Mon. to Thu.: 17:00~22:00
Fri. and Sat.: 17:00~23:00
The parking lot is across the street from the stone warehouses.
Detailed information
GEA

1-19-1 Motomachi, Sagae City