Feature
[Feature] Autumn Drive Course! Discover Nishikawa Town
[Feature] Autumn Drive Course! Discover Nishikawa Town
Nishikawa Town is located in the center of Yamagata Prefecture.
We will introduce a drive course where you can fully enjoy the autumn, includind autumn leaves spots, mountain vegetables soba, and a roadside station full of local souvenirs.
1. Nishikawa Town
Nishikawa Town, with a population of about 5,000, spreads out at the foot of the famous Mt. Gassan in the center of Yamagata Prefecture.
95% of the area of the town is a mountainous area rich in nature, and in the summer, I often go camping, playing in the river, or going to the hot springs.
In addition, it is one of the most heavy snowfall areas in snow country Yamagata, and in the past, 790 centimeters of snow has been recorded!
By the way, snow reached 466 cm in 2021, a level where houses can easily be buried if the snow is not cleared.
There is also a very rare spot in Japan where you can enjoy summer skiing because in winter there is too much snow to ski!
Such Nishikawa town is full of charm in autumn!
This time, we will introduce a recommended drive course for autumn tastes, scenery, and shopping.
Drive course
(1) Sagae Dam
(2) Mt. Gassan mountain vegetables soba
(3) Nishikawa Roadside Station
(4) Autumn leaves of Jizo Pond
2. Sagae Dam at Lake Mt. Gassan
The first place I visited was the Sagae Dam.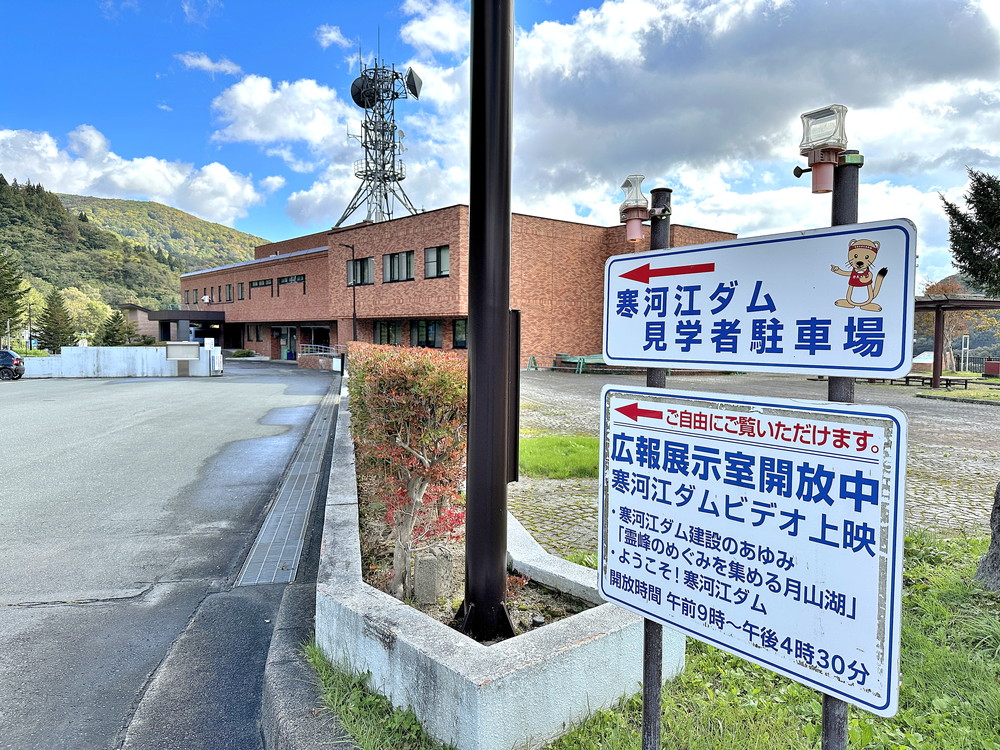 Actually, I heard that you could see one of "Japan's top" thing here.
Park your car at the parking lot and head to the observatory!
Go down the stairs behind the parking lot and the building on your right is the observatory.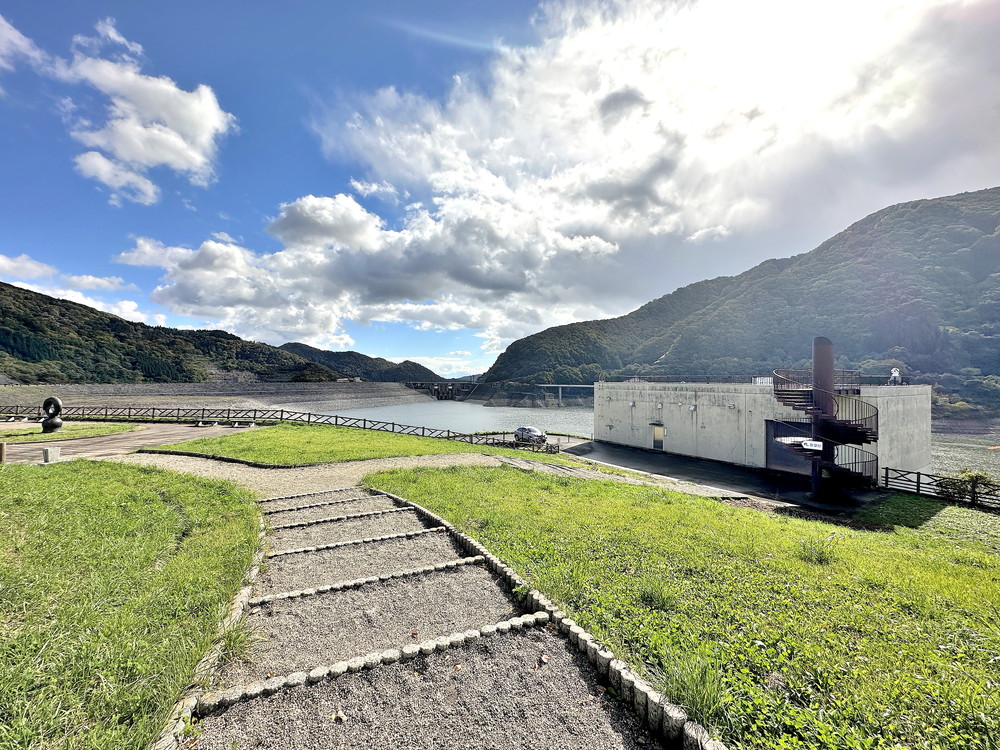 This is what it looks like when you climb the spiral staircase.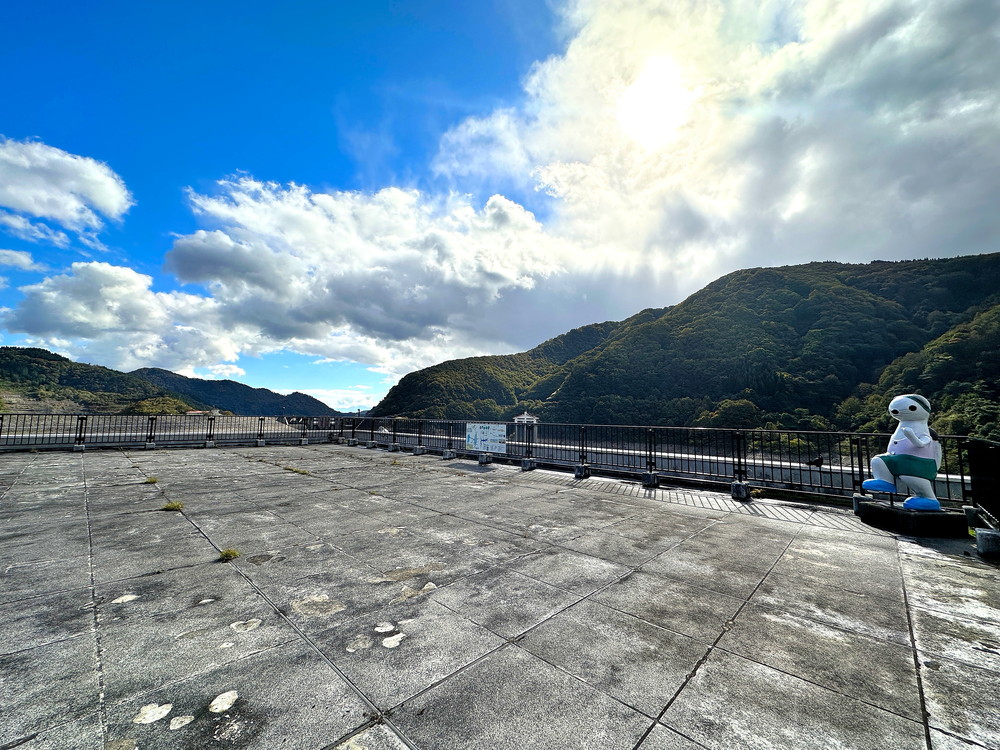 Sagae Dam's character Hondo Okojo no Kanpei-kun welcomes you.
Wha, what is this, I can't say anything!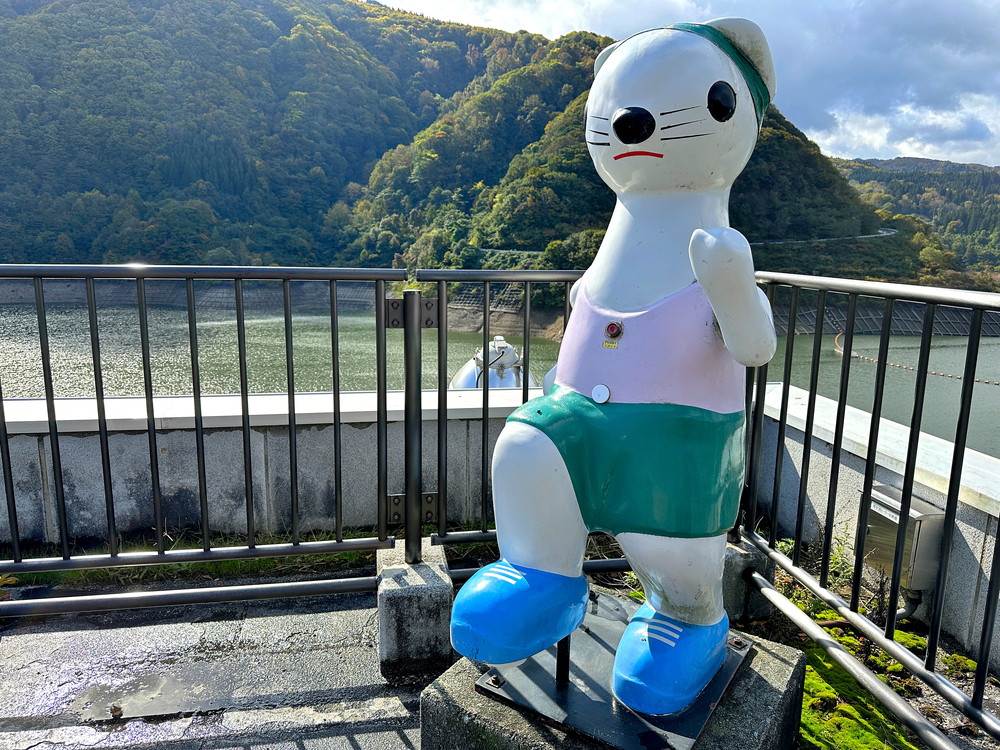 It's like it's getting more adorable as time goes by lol
Such a Kanpei-kun is not just standing, he is also working hard.
There is a button on the stomach, so please try it.
A voice guide will guide you through the attractions of Sagae Dam.
Well, here is the view from the observatory!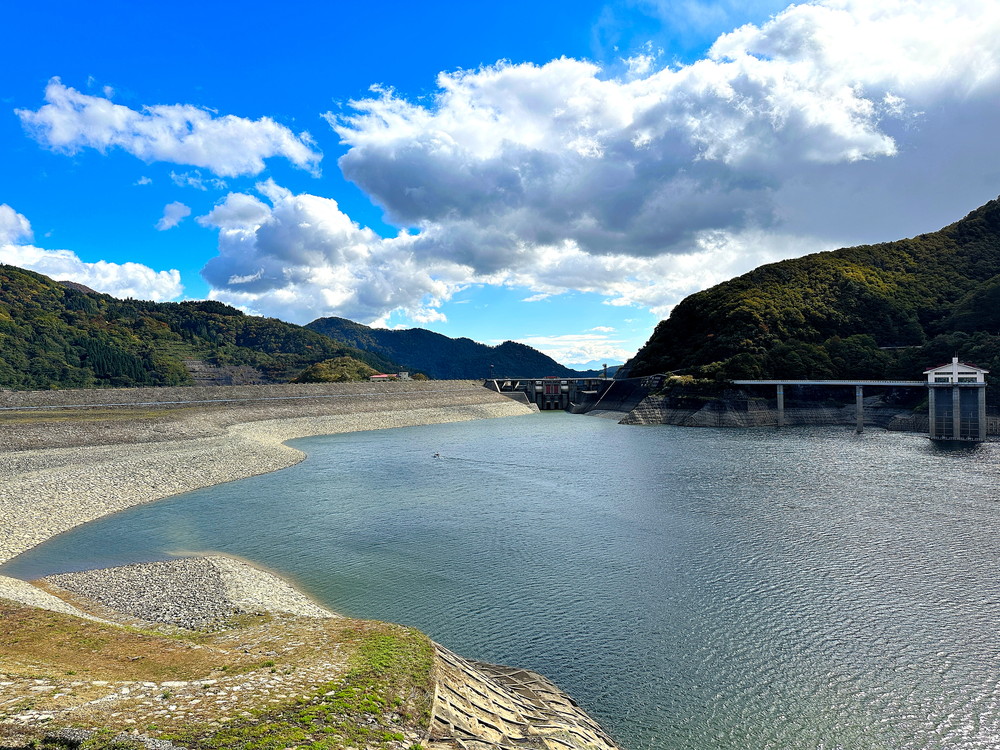 The Sagae Dam blends in with the blue sky, white clouds, and the greenery of the mountains.
It was a spectacular view of harmony between nature and man-made objects, so beautiful that I could stare at it forever.
It was October at the time of the vist, but the weather was perfect, and so was the temperature!
It was a little early for autumn leaves, but the scenery dyed in yellow and red and the appearance of the snow cover look great.
By the way, when I was engrossed in releasing the shutter, the sound of water came from my right hand…
That's right, "Japan's largest water fountain", which is one of the reasons I came, has started!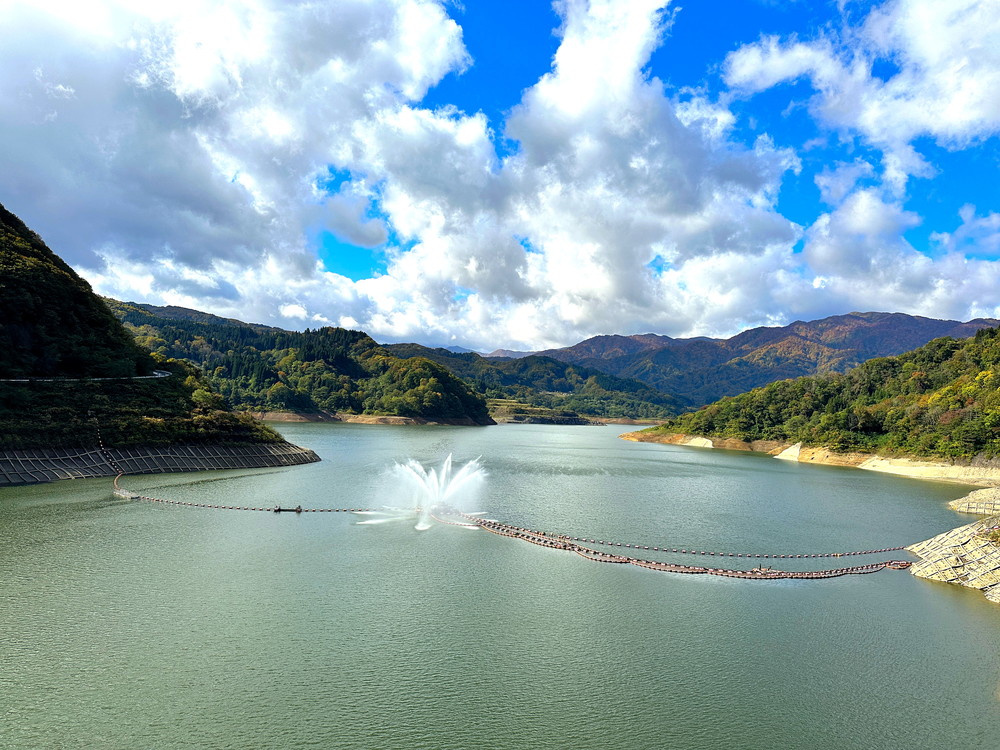 The fountain gets taller and taller…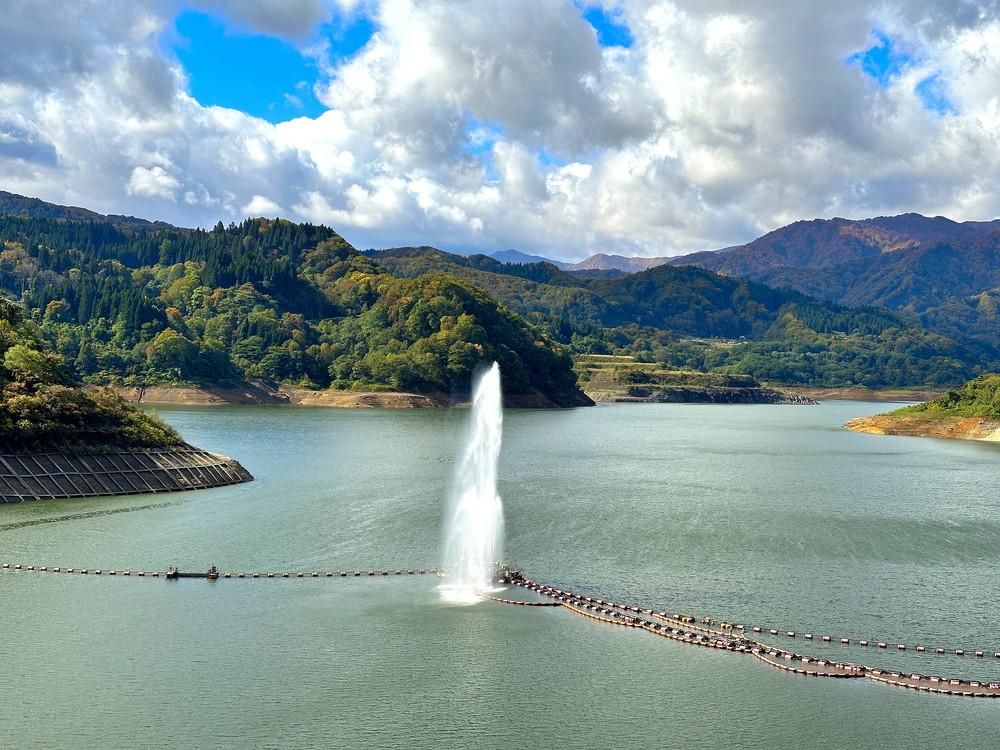 The highest point is 112m!
It boasts the highest jet height in Japan.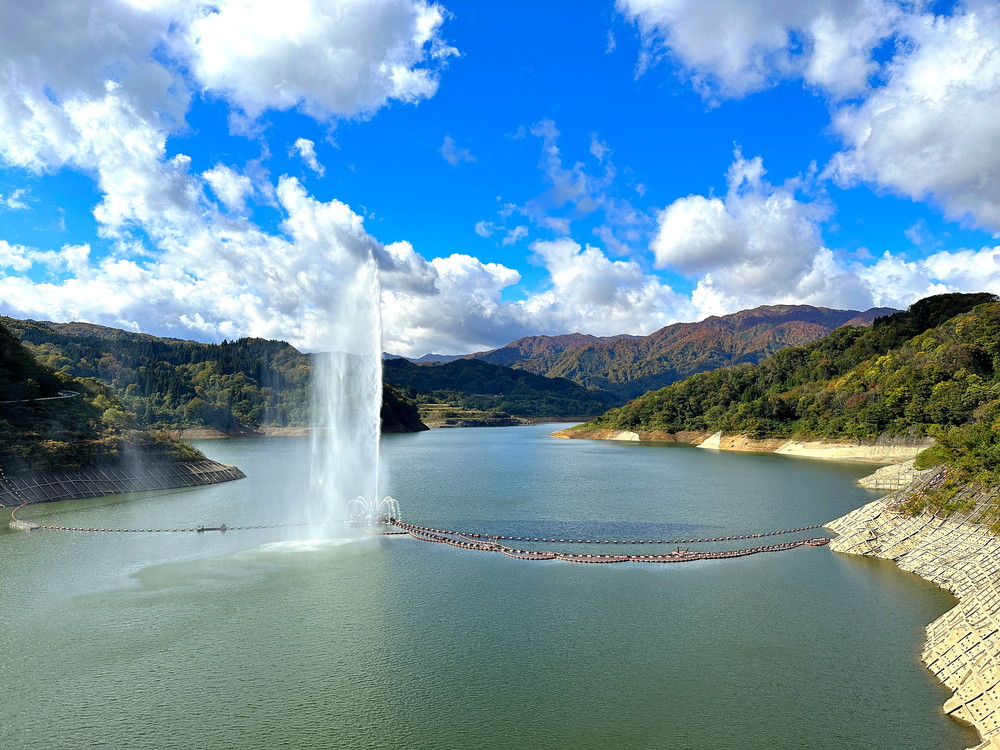 Actually, I've seen it from afar every time I've driven by, but this was my first experience seeing it up close.
The force is completely different!
Repeatedly getting higher and lower, the performance is over in about 10 minutes.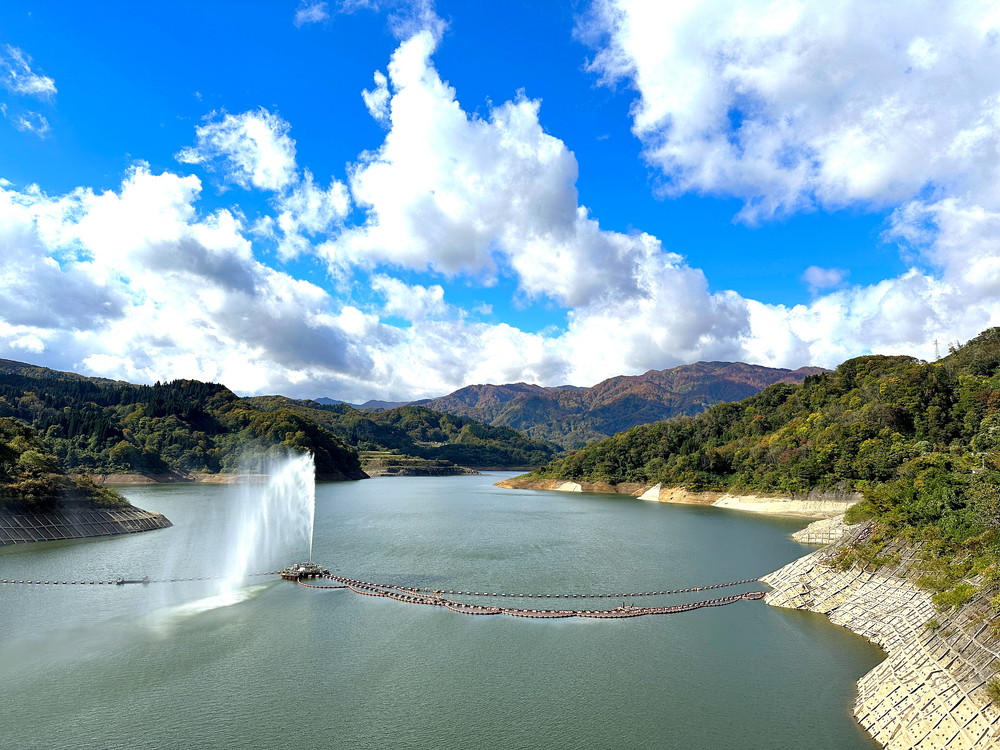 The fountain can only be seen from late April to November, and is launched every hour from 10:00 to 16:00 on weekdays and every hour from 10:00 to 17:00 on weekends and holidays.
Please take the time to visit.
Well, this time I saw the Sagae Dam and the Great Fountain from the observatory, but there is another recommended spot.
The location of Sagae Dam Observatory is here
There is also "Sagae Dam Observation Square" nearby.
Here you can see the fountain from a closer distance.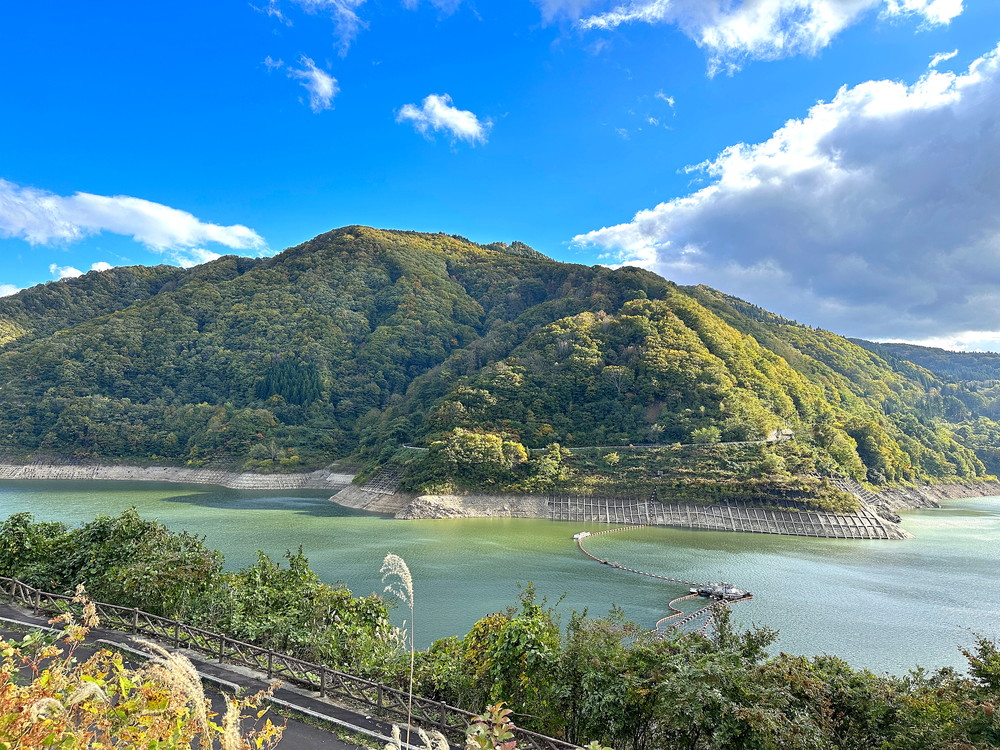 In addition, it is easily accessible from National Route 112, and there are restrooms and a restaurant, so it is recommended for those who want to take a quick look or those who want to see it while eating.
*The day I visited was a national holiday.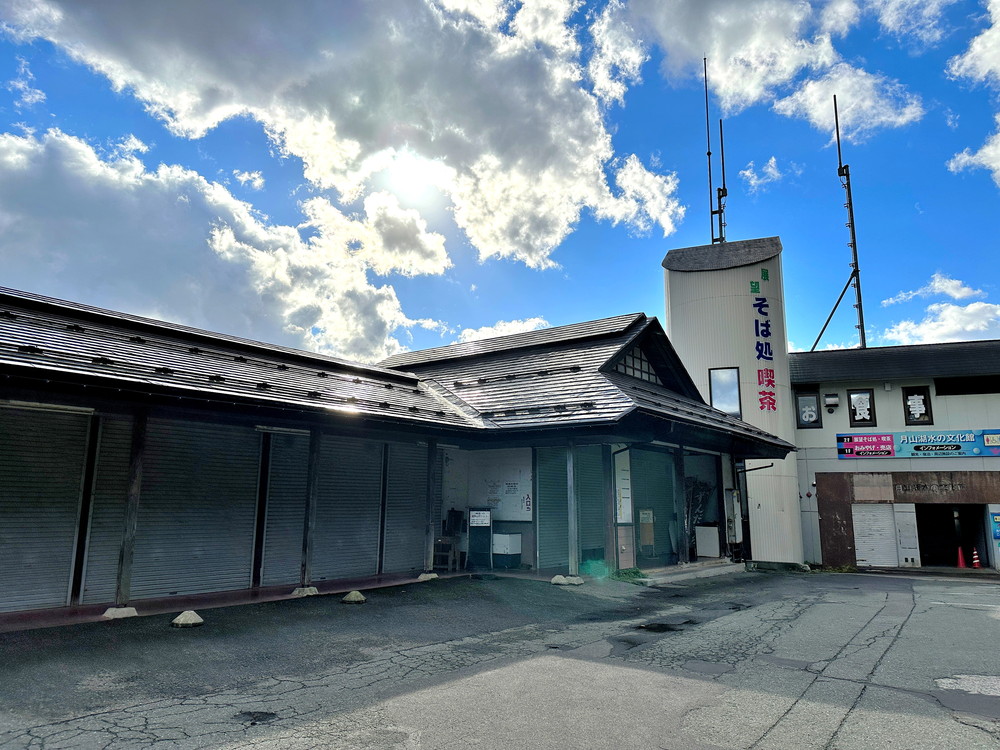 3. Mountain Vegetable Cuisine Dewaya
If you are admiring the beautiful scenery, time will pass in no time and you will be hungry.
So, let's have Nishikawa's specialty of Mt. Gassan mountain vegetables and soba!
This dish is served at 14 shops in the town, and while iron pots and utensils are standardized, the types of mountain vegetables are different at each location.
We visited the long-established restaurant Dewaya, which was founded 94 years ago, and is also the birthplace of Mt. Gassan mountain vegetables and soba dish.
*As of 2022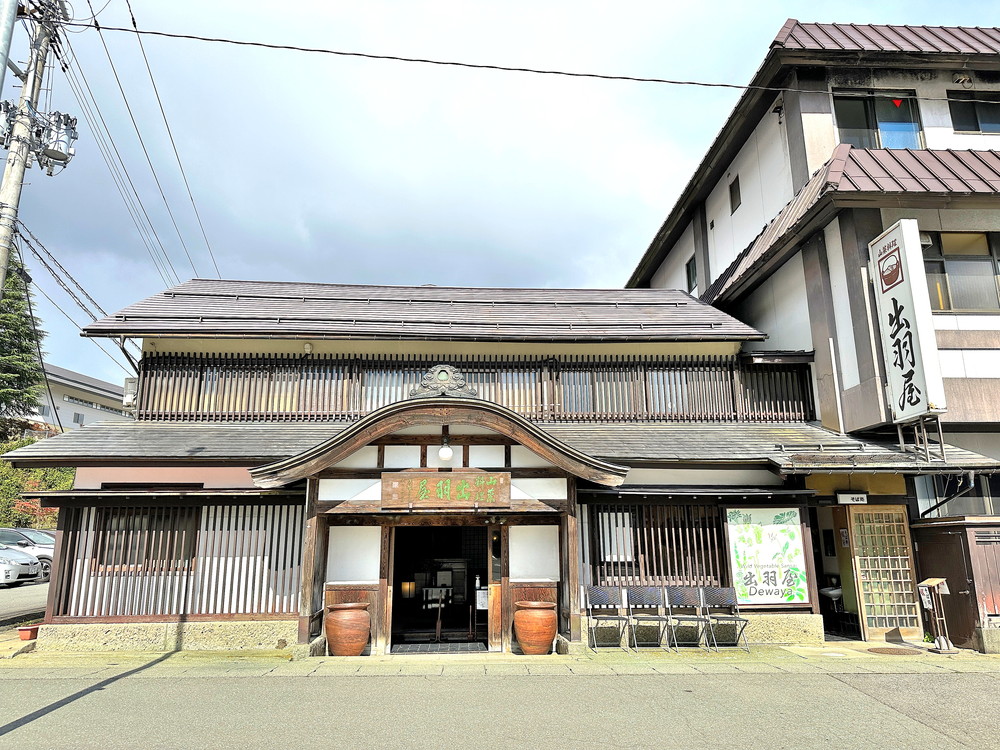 Well, isn't it absolutely delicious just with this atmosphere and appearance!
*For Mt. Gassan mountain vegetables and soba, please go to the restaurant through the entrance on the right.
When you enter the shop, the scent of soba spreading in the space will further accelerate your hunger.
And here is the dish that was brought!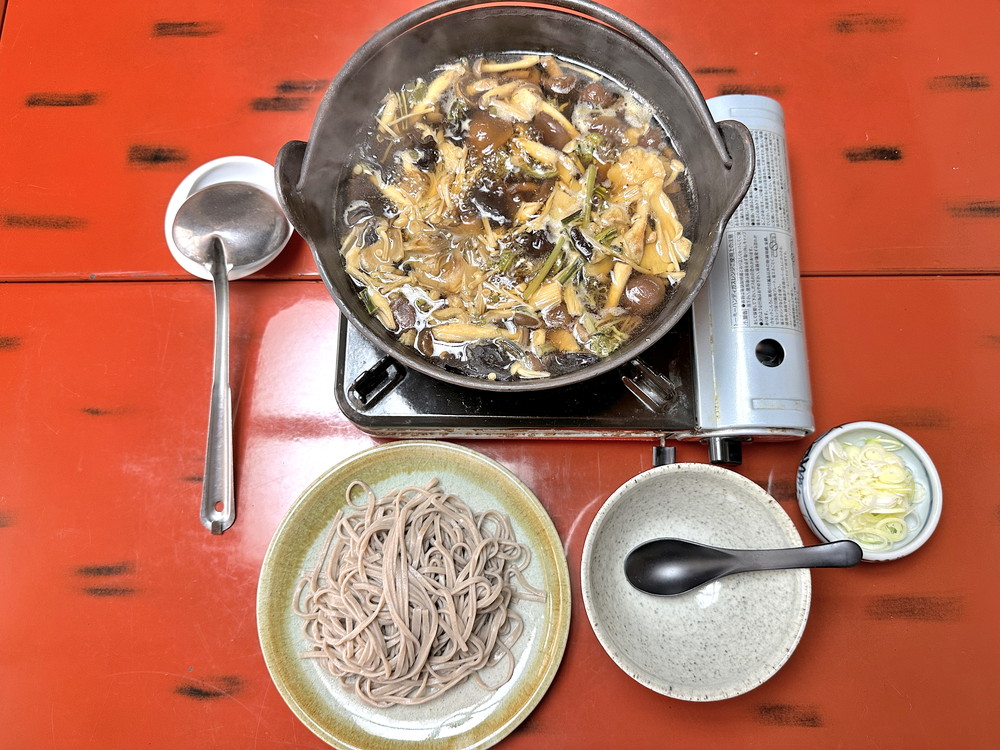 Whoooooooo! ! ! ! !
Even though the pot is already full of ingredients, soba noodles are served separately! ?
The volume was so big that I couldn't help but ask, "How many servings is this?"
In the iron pot, there are plenty of mountain vegetables (kogomi), chicken, and autumn mushrooms!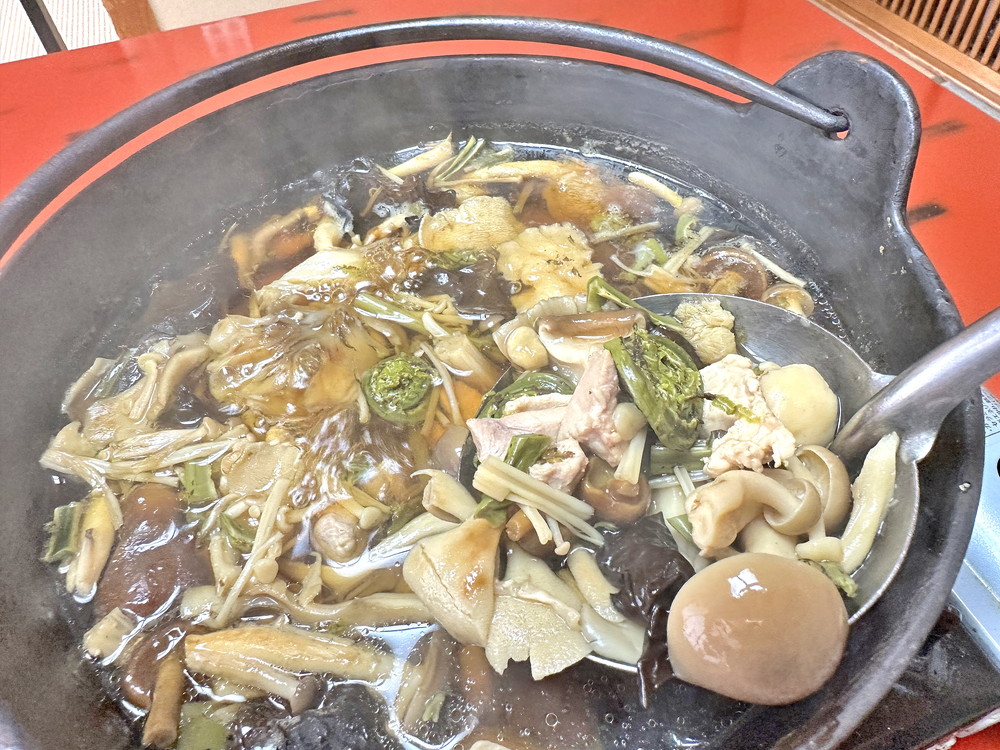 Don't be surprised, there are more than 10 kinds of mushrooms, such as nameko, maitake, shimeji, jelly ears, and more! !
This mushroom pot is more than enough! ! !
The umami of the mushrooms melted into the simple soy sauce-based broth, and I was simply blown away by the deliciousness.
When I asked the shop staff how to eat it, they told me how to put soba in the iron pot and warm it up.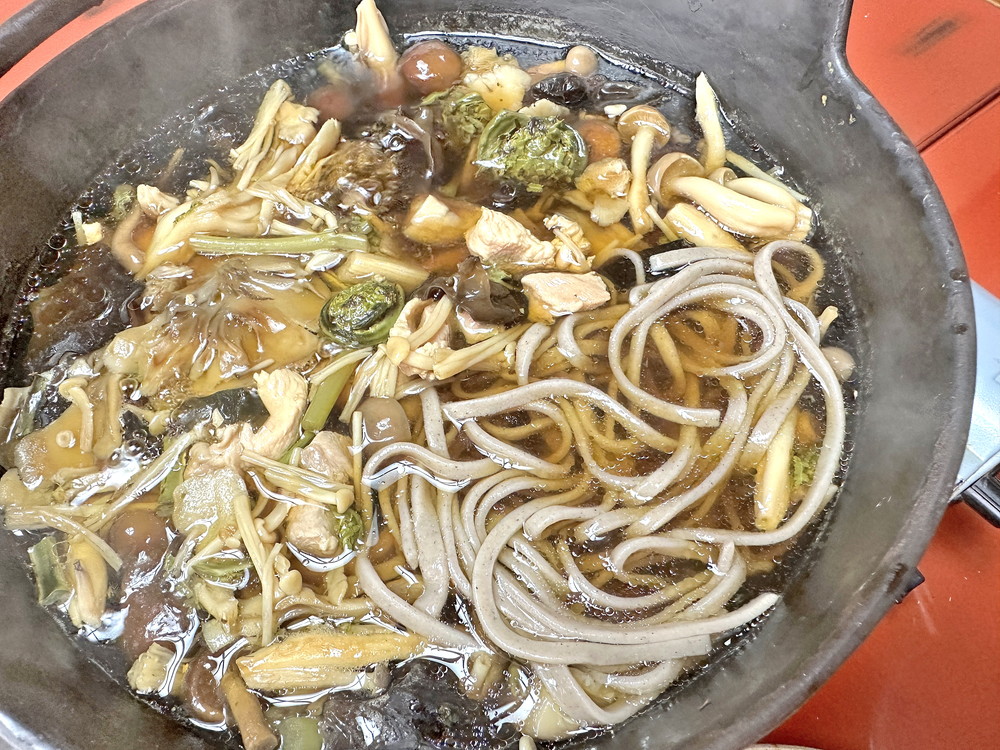 For those who don't like hot food, it is recommended to serve the soup and ingredients in a bowl like tsukemen.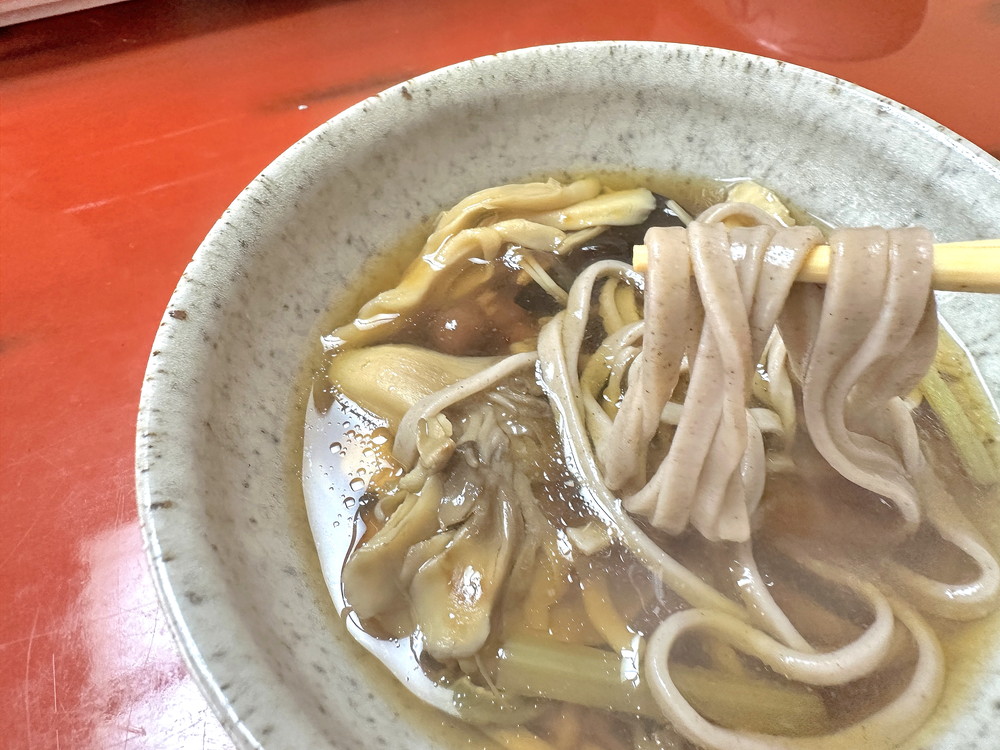 I tried both, but in the end both are simply delicious lol.
The rich flavor of soba and the umami of mushrooms is a foul, isn't it?
Mt. Gassan mountain vegetables and soba is a must-eat dish!
At the end of the meal, we received a message from Mr. Sato, the 4th generation owner, to everyone viewing VISIT YAMAGATA.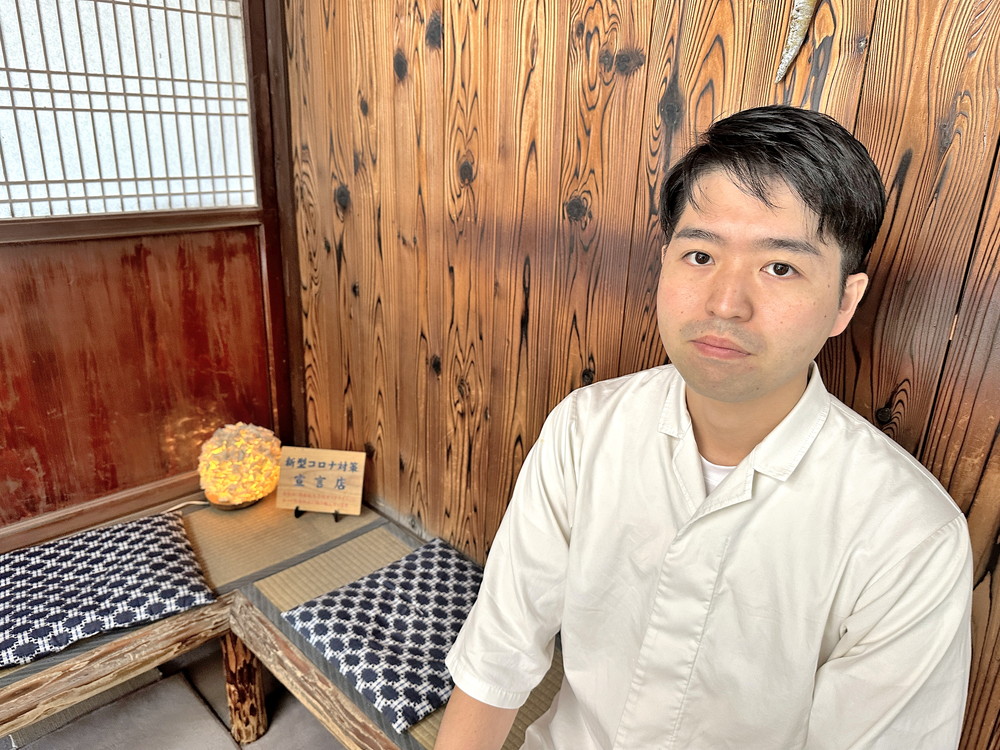 "Mt. Gassan mountain vegetables and soba has completely different ingredients depending on the season.
You can enjoy the scent of spring in spring and the scent of autumn in autumn, so please come and have a taste.
Come enjoy the flavors of Mt. Gassan."
Detailed information
Mountain Vegetable Cuisine Dewaya

58 Masawa, Nishikawa Town, Yamagata Prefecture

0237-74-2323

0237-74-2323
4. Nishikawa Roadside Station
Now that you've filled your stomach, it's time to shop at the Nishikawa Roadside Station!
It seems that it was renovated about 6 years ago, and it is fully equipped with a powder room, making it a nice resting spot for ladies.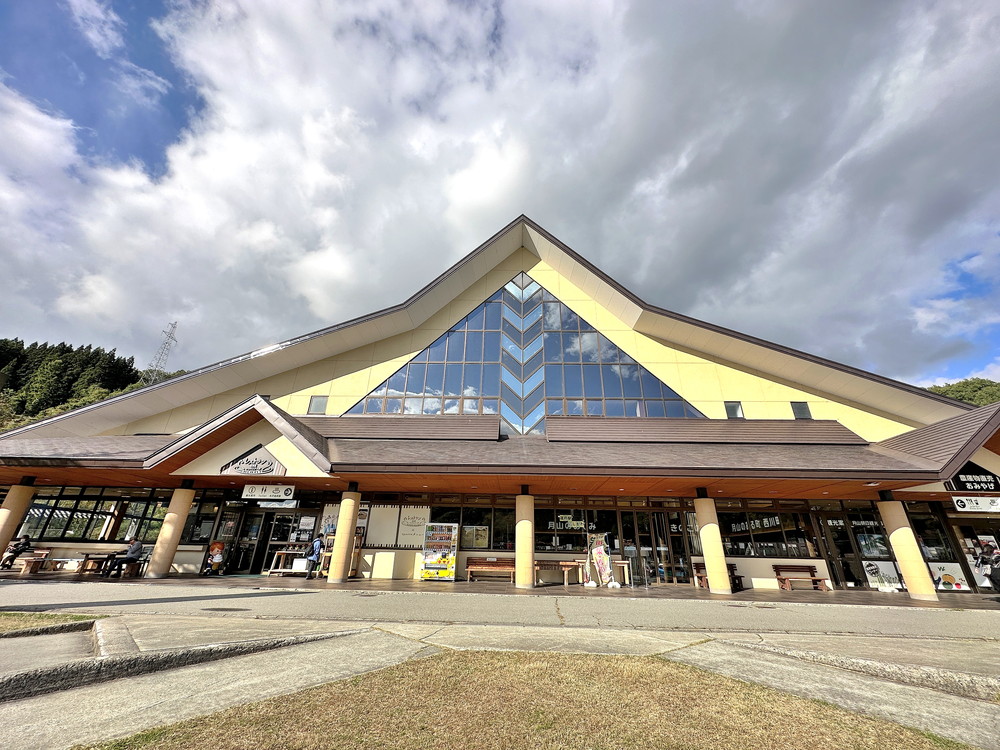 There is also Mizusawa Onsen next door, but unfortunately, at the time of the interview (October 2022), it was under construction for renovations.
I can't wait for spring to open in the spring of 2023.
① Souvenir corner
Introducing the shops right away!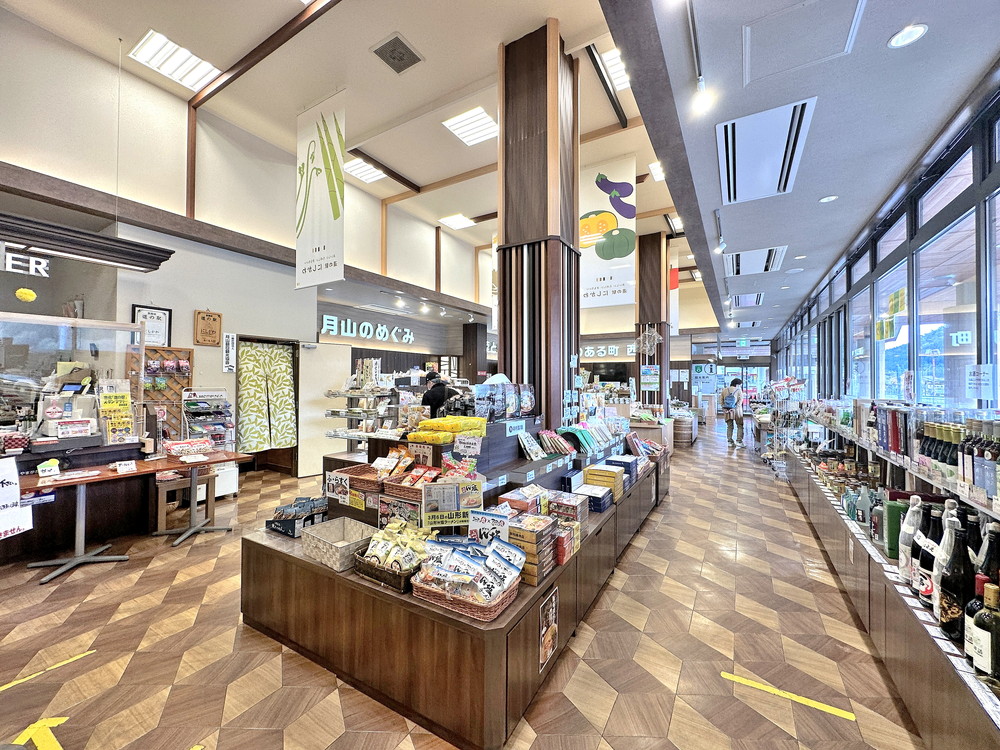 The floor and pillars are based on wood grain, and the ceiling is high, creating a calm and warm space.
Souvenirs such as classic sweets and noodles are also lined up.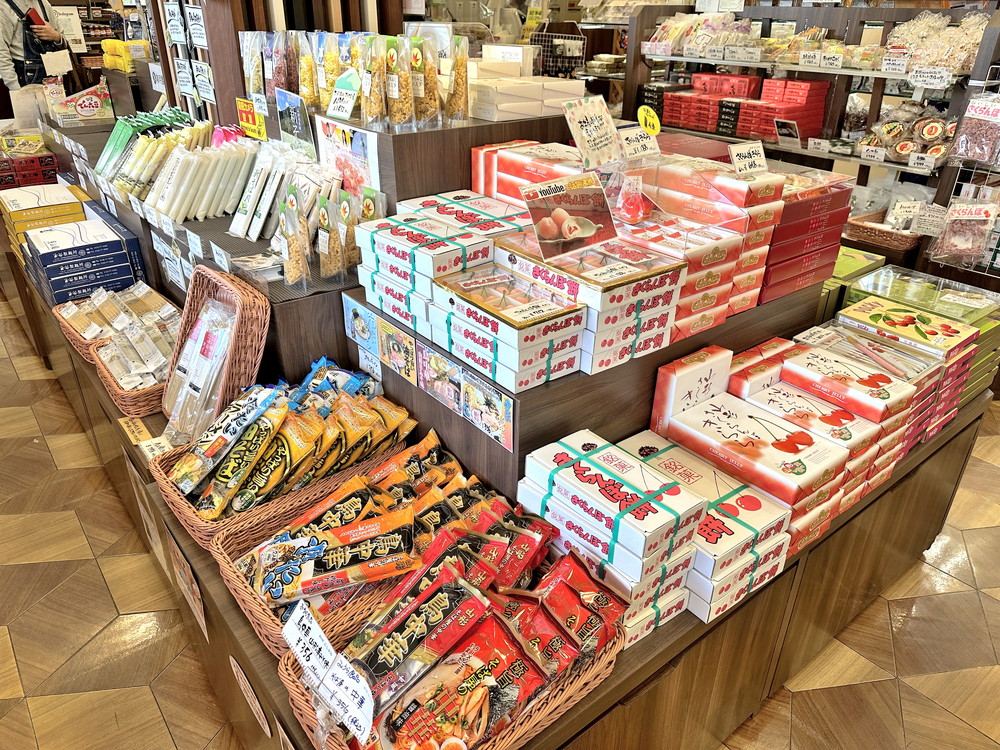 Wine made with local grapes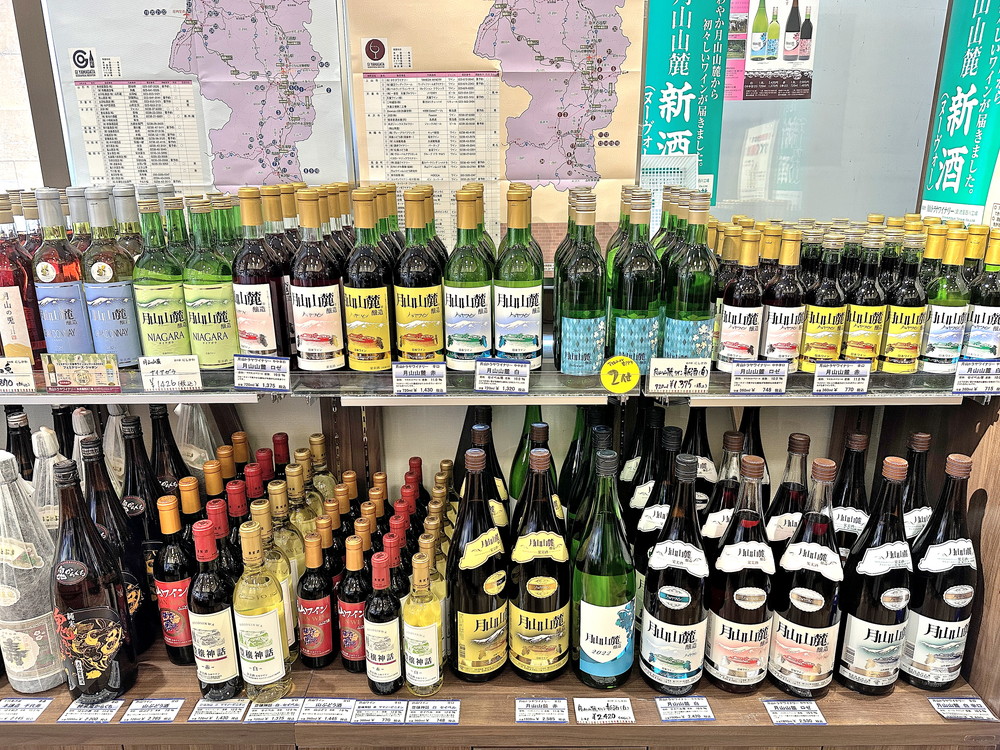 There was also a rare product that used Nishikawa Town's special product kokuwa, a nutritious fruit that resembles a kiwi berry.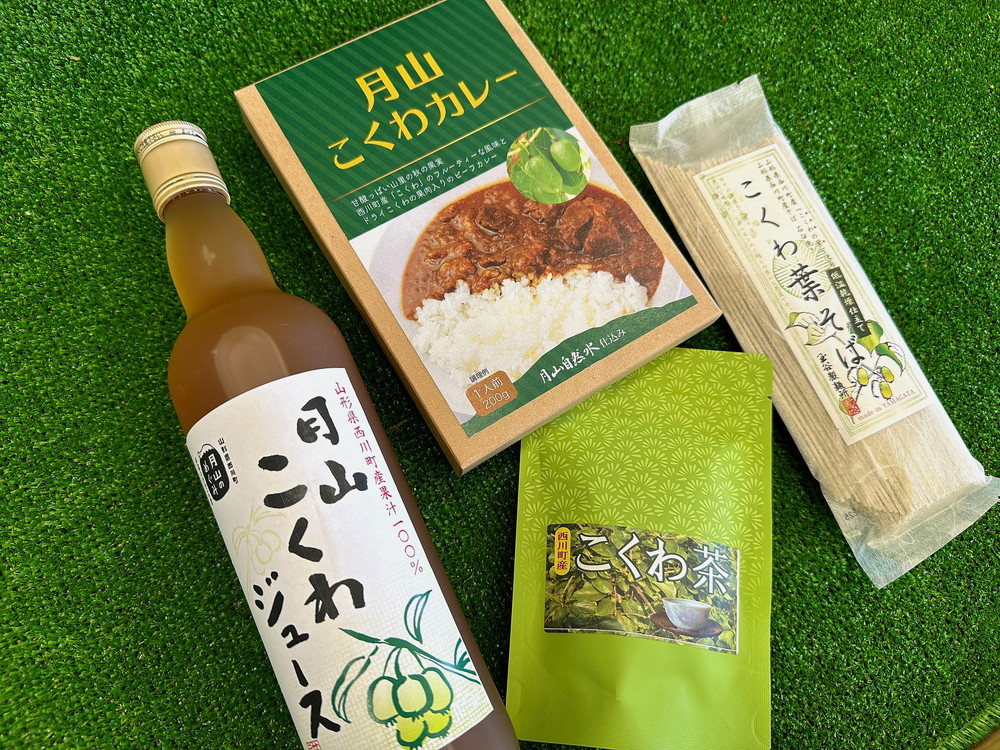 And what you can't miss in Nishikawa is mountain vegetables and mushrooms!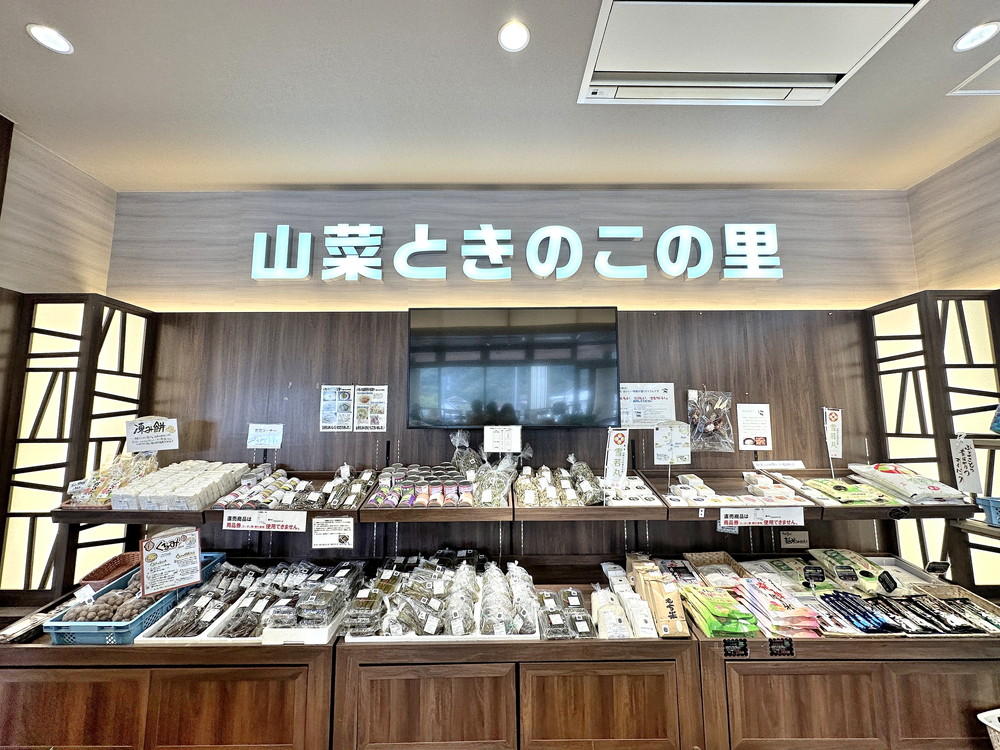 It is as expected that there is a dedicated corner for them.
In fact, the peak season for mountain vegetables is spring, so processed products were the main items on display this time.
A staff member said, "We don't have many mountain vegetables this time of year…", but that's not the case at all lol.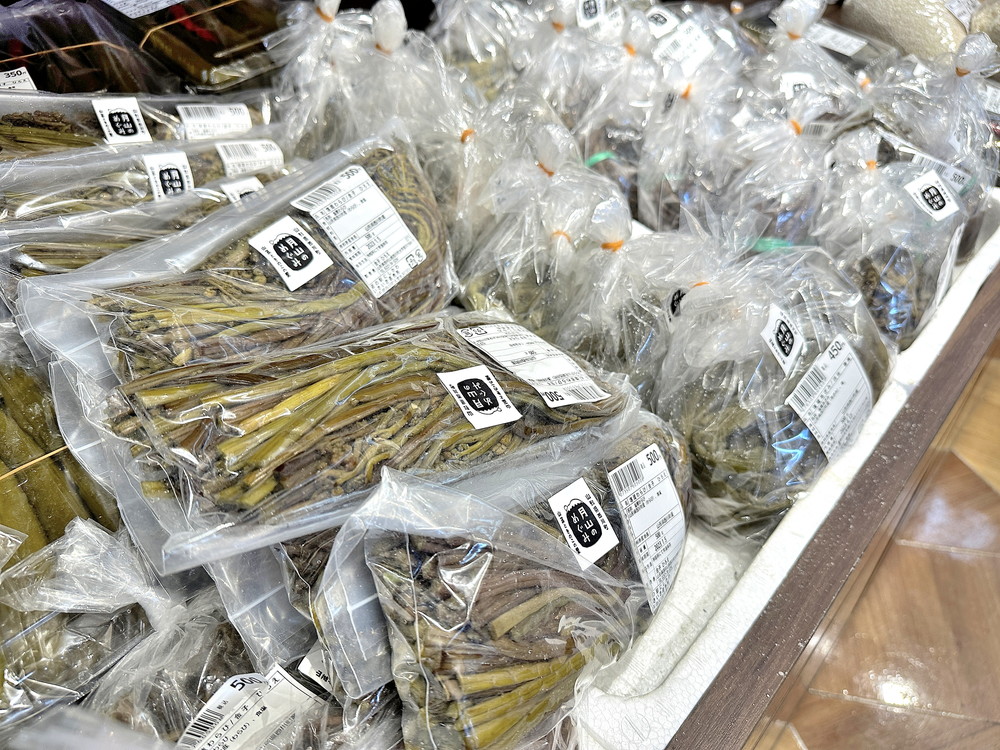 I'm really looking forward to seeing how spring will turn out.
There are also mushrooms that are surprisingly large.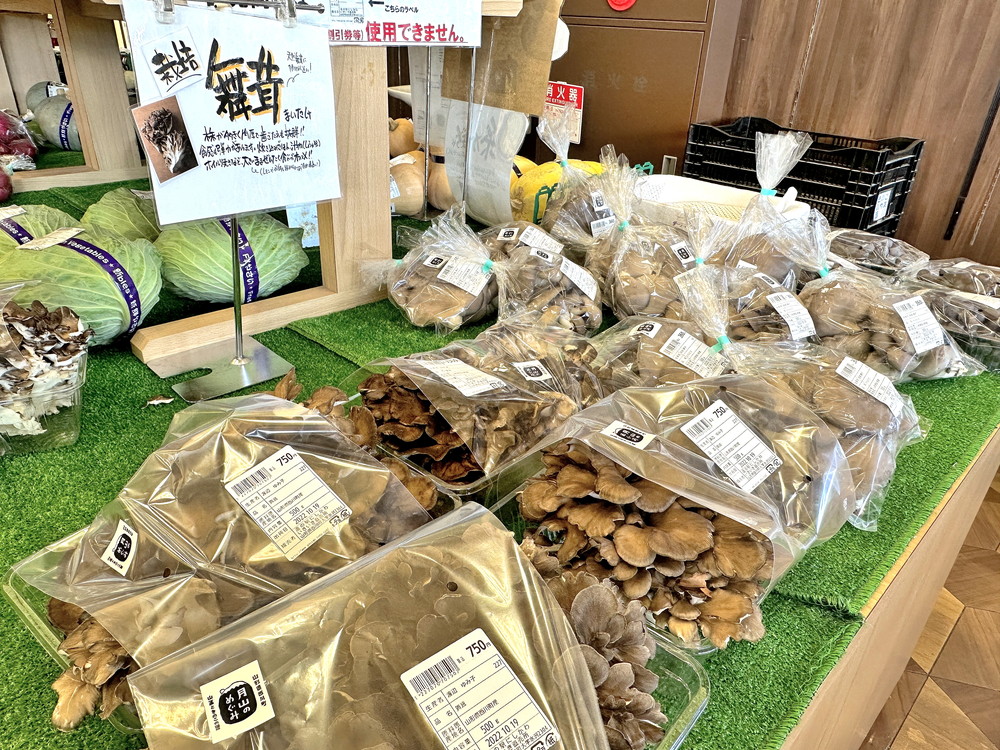 Mushrooms are popular at this time of year, and people line up before the store even opens.
② Three products you want to check out at the Nishikawa Roadside Station
I asked the staff for recommended products!
Please use this as a reference when shopping.
(1) Craft beer
First, Mt. Gassan Beer that is a local craft beer.
The Nishikawa Roadside Station has the only microbrewery in the prefecture that uses not only water and malt (100%), but also its own brewing method.
While there are several craft beer breweries in the prefecture, this is the only one that has a beer brewing license to produce more than 60 kiloliters per year.
*There are various other standards
It is a beer full of romance that uses local ingredients.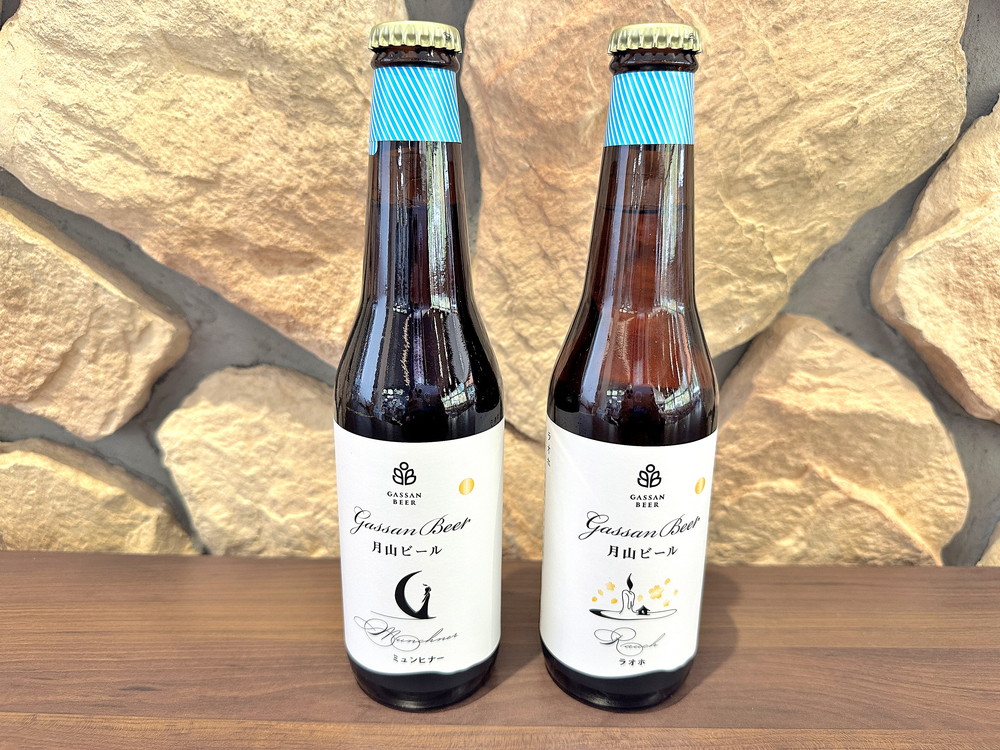 There are three types in total.
[① Pilsner]
Characterized by a refreshing hop bitterness and fine bubbles like silk.
[② Munchener]
Roast malt is used, dark in color but clean and flavoury in taste.
[③ Rauch]
Born from the smoke that permeates the malt when it is set on fire. The town's Tsuyahime rice is used as an auxiliary raw material as are thinnings of Keio cherry blossoms, which are actively produced in Nishikawa. Many people are addicted to the taste
I couldn't get the Pilsner this time due to logistics, but I would like to compare drinking.
(2) Mt. Gassan Nanbako
Mt. Gassan Nanbako uses chili peppers from Nishikawa Town.
It is characterized by its deep spiciness, and is highly recommended by the staff, saying, "Once you try it, you won't be able to stop."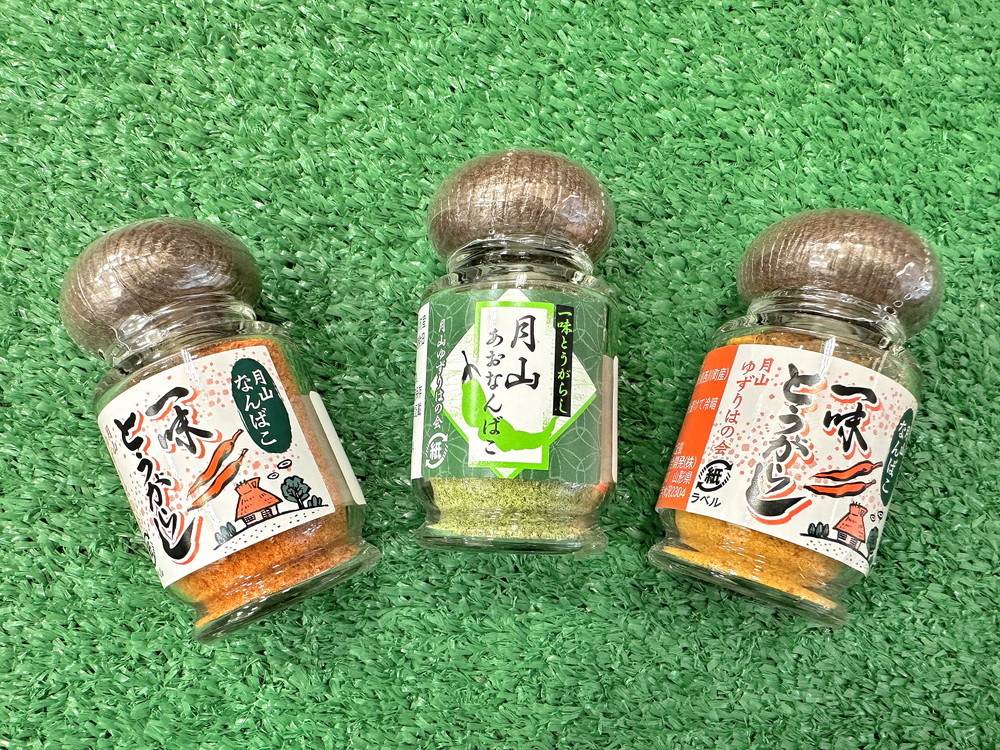 (3) Chestnut Monaka
Chestnut-flavored monaka sweets from Wakatsuki, a long-established confectionery store in Nishikawa Town.
In Oisawa, Nishikawa Town, there is a chestnut tree which has the the largest trunk circumference in Japan.
The chestnut monaka, which is made after that, is shaped like a chestnut and has plenty of chestnuts inside.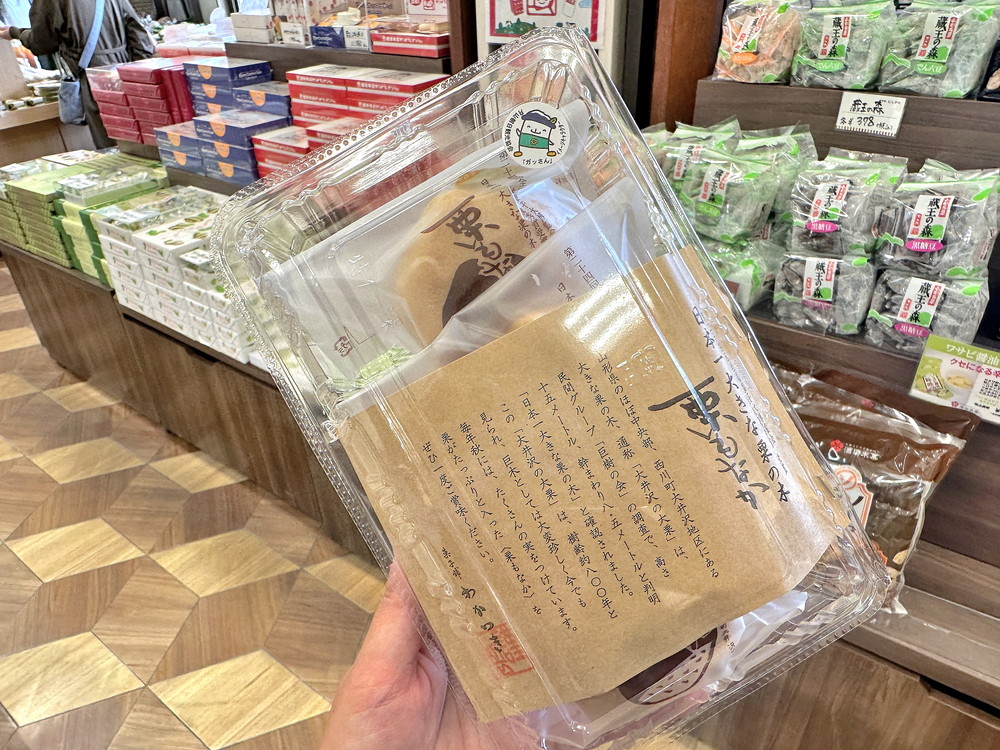 ③Restaurant & Food Court
Here is the restaurant food court of the Nishikawa Roadside Station.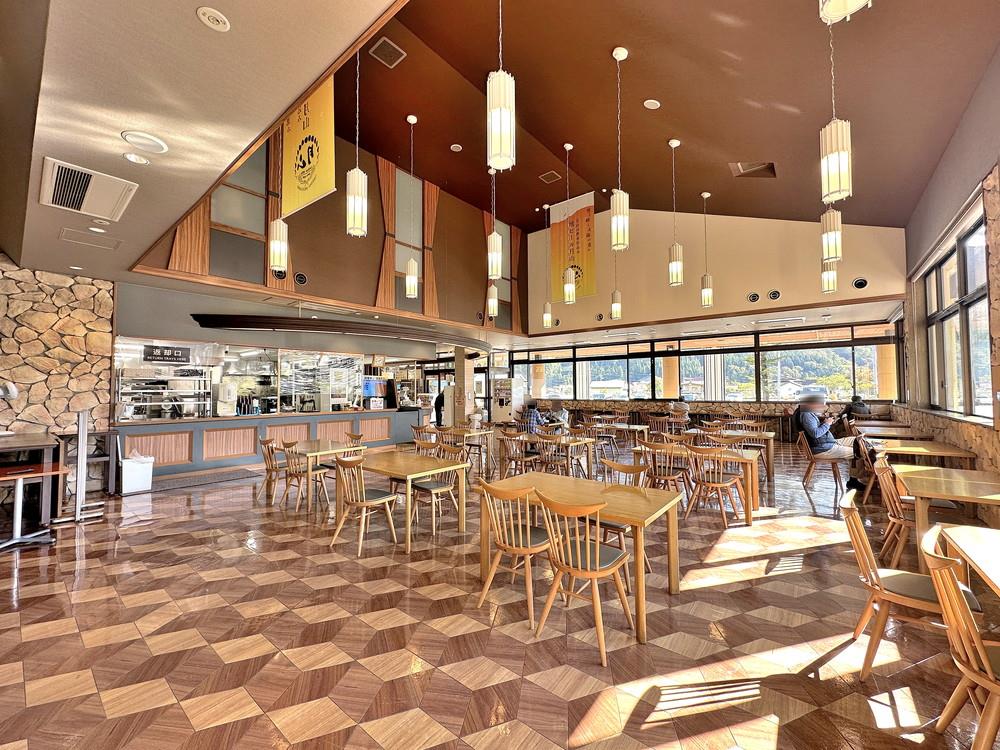 In here you can enjoy Mt. Gassan beer and dishes using mountain vegetables.
This time it's sweets time, so I ordered this unusual item that is recommended during drives.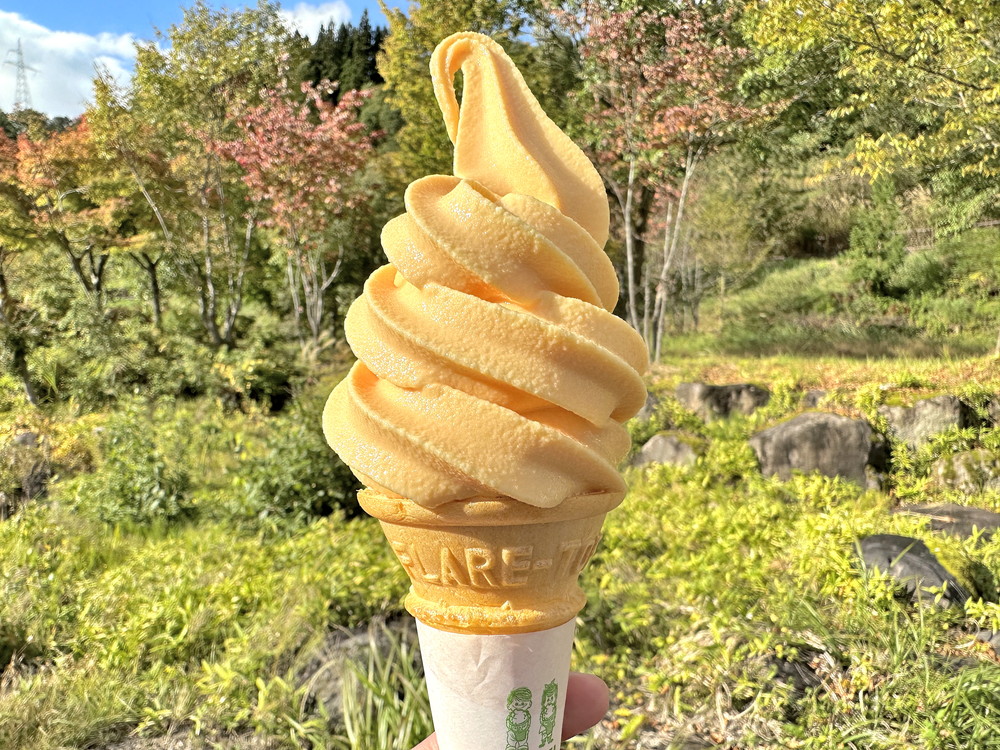 This is a local beer soft-serve ice cream.
But don't worry!
It's non-alcoholic, so it's OK not only for drivers but also for children.
It has a refreshing deliciousness where you can really feel the scent of seaweed and wheat!
I couldn't imagine soft-serve ice cream with beer, but it's totally a great match.
Detailed information
Nishikawa Roadside Station

2304 Mizusawa, Nishikawa Town, Yamagata Prefecture

0237-74-2100

0237-74-2100
5. Autumn leaves of Jizo Pond
Since it was just the season, we drove to the popular autumn leaves spot Jizonuma.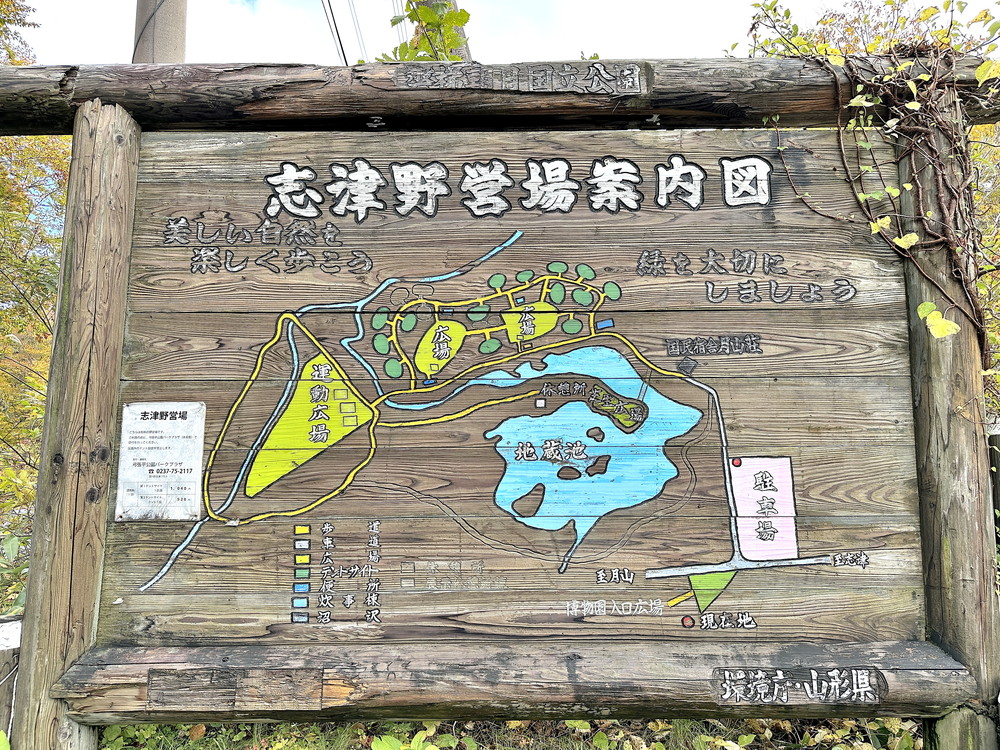 Park your car at the nearby parking lot and walk for a few minutes.
Here is the scenery that jumped into my field of vision!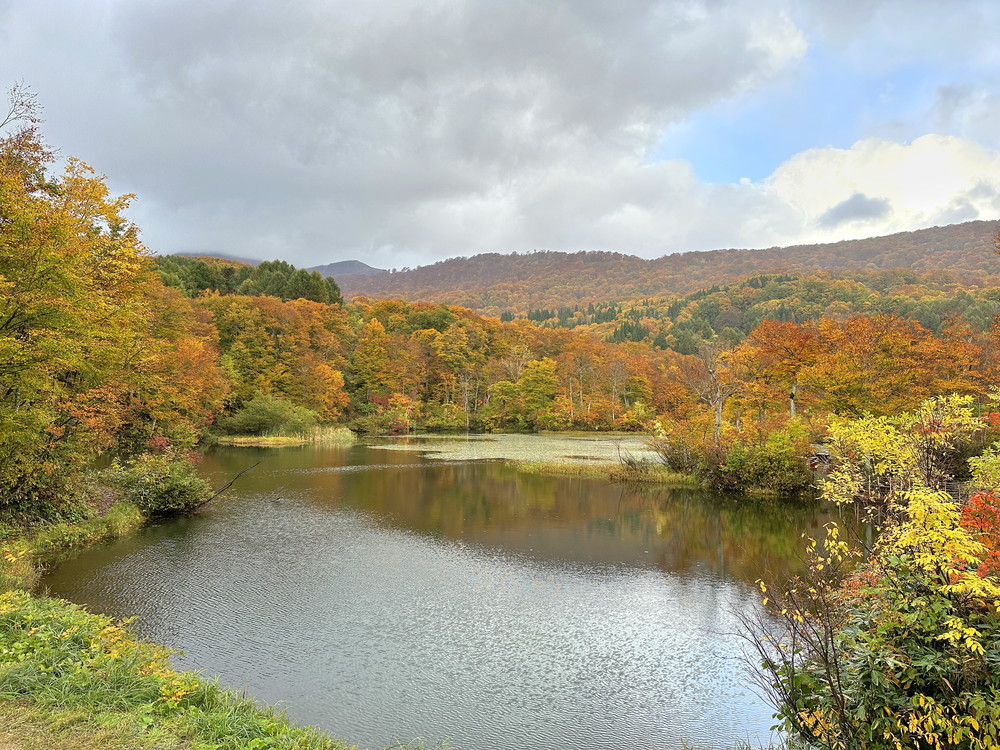 It was a little early until the best time to see it, but it's still this beauty!
It's a pity that my photography skills are not good enough, but the contrast between the yellow and red trees and the blue and white sky was amazing!
What will the peak be like?
Even the chilly wind near the evening was a great supporting role that made us feel the arrival of autumn.
By the way, there is also a promenade, so it is also recommended to enjoy autumn leaves while walking.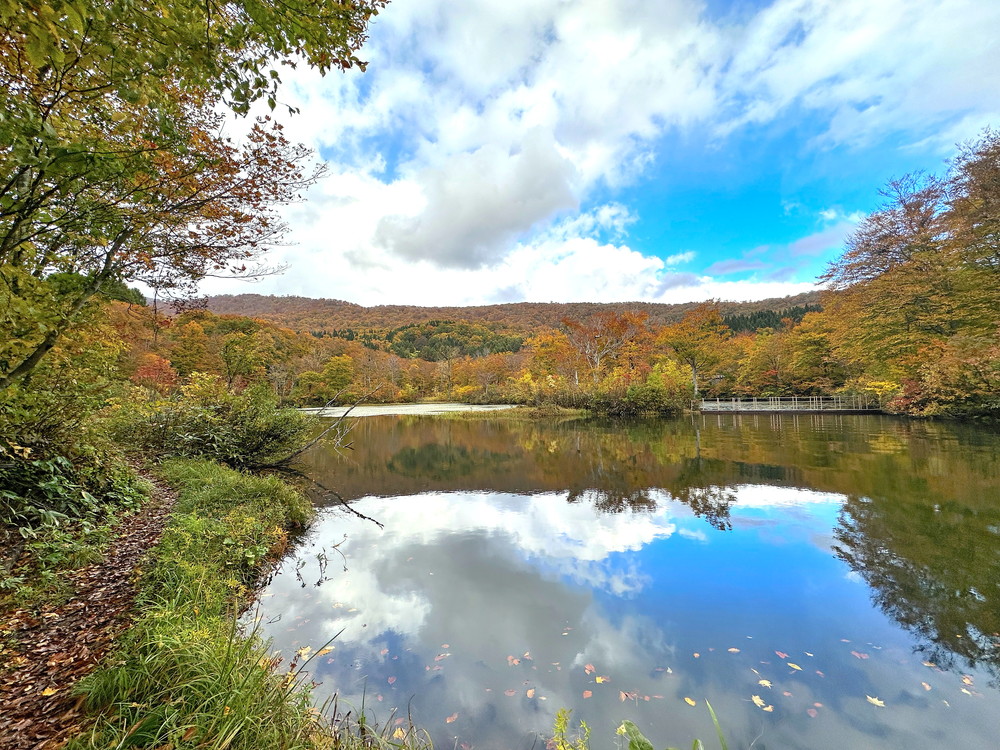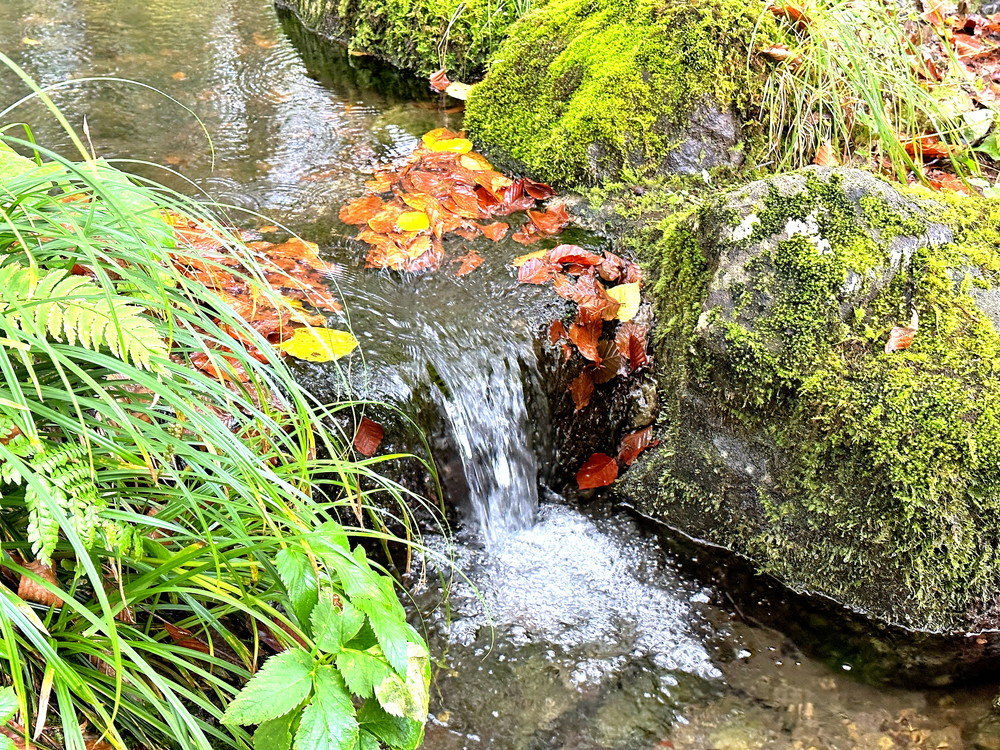 I wanted to see it for a long time, but the weather is easy to change because it is a mountain, and it rains on and off.
It might be a good idea for everyone to prepare a little rain gear.
6. In conclusion…
This time, I traveled alone to Nishikawa town on a weekday.
Of course it's fun with families, couples, and friends, but it's also highly recommended to have time to see, eat, and shop alone.
It felt like my mind and body were cleansed.
Also, the roads on the drive course introduced this time are not complicated, and even myself, who is not good at driving, enjoyed driving.
Please come and enjoy the beautiful scenery of the four seasons and delicious meals.